Two months ago, Tory Burch ignited an aggressive crackdown on counterfeiting, filing four lawsuits against companies allegedly peddling look-alike versions of her jewelry across the globe. Fashion's elite lauded Ms. Burch as a hero, her efforts an added tally to the ranks of fashion houses that have fought—and won—against the underground trade.
But according to Howard Myerowitz, attorney for Lin & J International—a jewelry distributor targeted in the lawsuits—Ms. Burch's "commando-style litigation" and media favor have papered over the "false and frivolous" narrative behind her claims.
"Don't be fooled," he said. "If there's anyone copycatting, it's Tory Burch."
The lawsuits center on Ms. Burch's ubiquitous "TT" logo, which found its fame atop the line's Reva ballet flat in 2006. Lin & J currently markets pieces that do bear an uncanny resemblance to the Tory Burch insignia, but alleges that its own design—the "Isis Cross"—debuted well before Ms. Burch introduced her line.
Indeed, invoice records reveal that Belco, the previous jewelry company of the owner of Lin & J and the designer of the cross, distributed pieces with the design in question as early as 2003. Tory Burch launched her company in 2005.
Mr. Myerowitz also pointed to Ms. Burch's unsuccessful attempt to cement the logo—just last December, he noted, the U.S. Patent & Trademark Office denied her trademark request of the design, chipping away at her claim to originality. And while Ms. Burch ultimately did secure the trademark on July 9, the registration came nearly two months after she filed suit, undercutting her original allegations of trademark infringement.
"The facts speak for themselves," he concluded.
Armed with this line of defense, Mr. Myerowitz and Song Law Firm have filed a countersuit in U.S. District Court in New York, accusing Tory Burch of unfair trade practices, tortious interference with business relationships, defamation, and trademark infringement.
Among these allegations, Mr. Myerowitz deems Ms. Burch's persistent attempts to "intimidate" smaller competitors most troubling.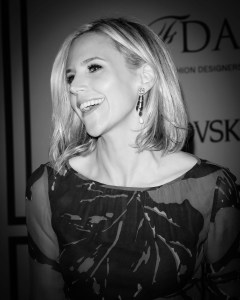 "This is a case of David versus Goliath," he said. "Tory Burch is hoping that these modest jewelers will be unable to bear up against the suits and will simply drop out of the market." Mr. Myerowitz called these tactics "repugnant" and "anti-American."
Chris Giglio, a spokesperson for Tory Burch LLC, was quick to dismiss the validity of Lin & J's countersuit. "The claims that we copied them are false," he told The Observer. "In fact, they are nothing more than a diversionary tactic."
Ms. Burch's additional suits against Wona Trading Inc, Jewelry House Corp. and Glitzlane Boutique remain lodged in deliberation stages. For Ms. Burch, a favorable outcome would further cement her newly attained billionaire status, especially against the backdrop of New York's recent legislative blitz on counterfeiting—an industry estimated to cost U.S. companies over $200 billion annually.
Ultimately, the mega-brand likely sees little threat from a company that posted $2.2 million in sales last year, a far cry from Tory Burch's  revenues of $800 million. But despite this glaring difference in rank, Mr. Myerowitz remains intent on securing injunctive relief for Lin & J.
"Tory Burch might be bigger in terms of market share, but might doesn't make you right," he said. "If Tory Burch wants a fight, she's got one."