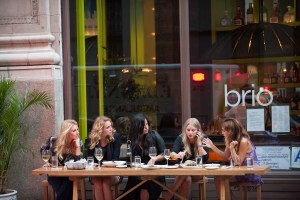 In premise and execution, Style Network's new reality program, City Girl Diaries, is hardly revolutionary. The "Besties Living in NYC" prototype has been used to create such memorable shows as Sex and the City, The Real Housewives of New York City, Girls, Kourtney & Kim Take New York and the fourth hour of Today.
So what makes Diaries, whose second episode aired last Sunday, different? Well, the five women have jobs, for one thing. And they're not extremely wealthy. It's really just about a group of 30-something women who all work in PR and media (except for Leila Shams, the diminutive fashion designer). They are also legitimate friends, and maybe a show whose hook isn't "bitches be scheming" is just novel enough to earn some airtime.
On Monday, the Transom sat down for lunch at Michael's with four of the five ladies. There was Ms. Shams, publicist Leigh Rossini, NBC's New York Live correspondent Raina Seitel and Kelly Brady. (New York Daily News gossip columnist Marianne Garvey was unable to make it.)
"What's great about this group of women is that we all do something separate," Ms. Brady said. "We're not that competitive with each other. I actually want to see all of these women succeed. So, you know, they can help me."
She's kidding, of course, but there is an element of cynicism in any reality program. Why, after all, would anyone agree to be on such a show if not to promote her personal "brand" (or fashion label)? And these are five women whose jobs are 100 percent about brand awareness. Ms. Brady, for instance, is the founder of Brandsway Creative, a PR firm. Ms. Rossini does in-house PR for hairstylist Louis Licari's Color Group. And Ms. Shams, whose designs have been worn by Ke$ha, Nicki Minaj, Fergie and Kim Kardashian, is trying to raise money for her fashion line.
"The self-promotion part of this is a little tricky—it's a little awkward," said Ms Seitel. "As a journalist, it seems a little narcissistic."
"Promoting yourself as a publicist is the worst," added Ms. Brady.
"I can't do it," agreed Ms. Rossini.
And yet they do.
"That's the reason I went on, to bring attention to my company," conceded Ms. Brady.
In fact, all four women expressed some concern that the show's initial episodes focused more on their interpersonal drama (which, to be fair, is tame by reality-show standards) than their careers. So if they're a little self-promotional, they're also self-aware. One could make the case that Diaries is feminist programming.
"We're not going to get dropped [by our men]—we're the breadwinners," explained Ms. Shams, who is four months pregnant. Ms. Rossini's storyline so far has focused on her adjustment to life with a new infant and a full-time job while trying to find a bigger house for herself and her boyfriend.
Lifestyles of the rich and famous this is not … quite.
"Some people on Twitter called us 'socialites,' and I was like 'How are we socialites?'" Ms. Seitel asked. "We don't even know any socialites. I don't even know if there are still socialites in the city."
"That's because we don't go above 60th," deadpanned Ms. Rossini.
And perhaps that was true: The Transom tried to talk the four women out of asking a waitress to take some phone photos memorializing our lunch, convinced that the celebrity-patronized institution would surely have some rule against doing so. (Or that Bryan Cranston, two tables away, would think we were trying to surreptitiously snap his picture.)
"Oh come on, who the fuck cares?" Ms. Rossini said in a refreshingly non-socialite manner.