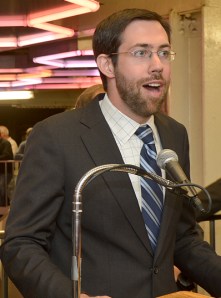 State Senator Daniel Squadron is flexing his
fund-raising advantage
in the public advocate's race by making "a high six-figure buy, very high" for cable and broadcast commercials, according to a Democratic source.
The source further labeled it a "down payment" and "just the first round" of purchases for the final week before the election, suggesting there will be more.
Mr. Squadron's campaign declined to comment, but another source told Politicker he filmed four different ads. Two of them depict Mr. Squadron talking to regular New Yorkers, one shows Mr. Squadron in an office touting his "gets results" theme, and a final features his endorsement from Senator Chuck Schumer.
The buys come as the calendar ticks toward August, and citywide candidates gear up for what is expected to be an all-out airwaves assault to connect with voters in the weeks ahead of the September 10 primary.
In the comptroller's contest, former Gov. Eliot Spitzer is already using his family fortune to make sure he's a presence on the air, while Manhattan Borough President Scott Stringer reportedly booked $2.2 million in ads last week.
In the mayor's race, Council Speaker Christine Quinn was the first Democratic mayoral hopeful to hit the airwaves earlier this month in what her team described as a "significant network and cable television ad" buy.
Public Advocate Bill de Blasio, who is now tied for second place in the latest primary poll, has also begun testing the waters and requested ad rates last week for his first TV spots, according to a source familiar with the conversations.
If his previous efforts are any indication, Mr. de Blasio's ads are likely to feature his family in a major way, especially in the aftermath of rival Anthony Weiner's latest sexting scandal. Mr. de Blasio's campaign spokesman, however, declined to comment on the efforts, saying, "We do not comment on advertising decisions."
For his part, Mr. Weiner's campaign also appears to be preparing to hit the airwaves; his campaign inquired about ad rates the week before last, according to a source familiar with the talks. And while some rival camps had assumed Mr. Weiner would delay his efforts in the wake of the latest maelstrom, camera crews were spotted entering Mr. Weiner's Park Avenue South apartment Saturday, suggesting he may be moving forward soon. His campaign spokesman Barbara Morgan, however, declined to comment on the filming or the campaign's advertising plans.
Representatives for two of the other major Democratic mayoral candidates, City Comptroller John Liu and former Comptroller Bill Thompson, did not respond to requests for comment.