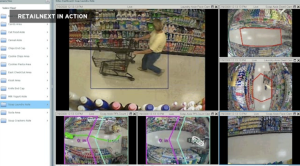 This spring, Nordstrom watched its customers skulk around the department store on-camera and tracked their habits through cell phone signals, as if life were just one big game of The Sims, the New York Times reports. Nordy's ended the experiment in May, because touchy customers complained for some reason.
But the Times mentions retail analytics company RetailNext in the story, and that company's site names a host of retailers that use its technology, including Bloomingdale's, American Apparel and Verizon.
Brick-and-mortar stores just want to learn more about their customers, like bastion of corporate values Amazon does, the Times reports. Using the tech, they're able to glean the sex of their shoppers, "how many minutes they spend in the candy aisle [Nordstrom has a candy aisle and no one told us?] and how long they look at merchandise before buying it."
Some customers are weirded out, the Times reports. They may have a point. After all, how would the dressing-room cash handoff at the end of Jackie Brown have been possible if such an invasive system were in place? These are the issues corporations brashly ignore.
A Philadelphia blogger who's clearly come down with Stockholm Syndrome told the Times that the use of advanced customer tracking software "makes sense" because stores are "trying to sell." She also "would just love it if a coupon pops up on my phone." Hey, thanks for encouraging that. We don't get enough junk email from retailers already.
At the end of the day, though, retailers online — including Nordstrom — are collecting wayyyyyy more info about you than how many times you return to the same pair of discount shoes in an hour. And online, those same shoes will follow you around the Internet for the next three weeks. At least they can't do that IRL — yet.