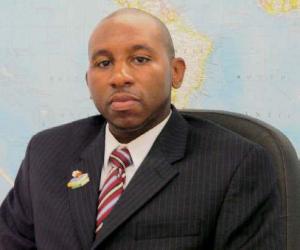 Bucking his mentor but not the Queens Democratic establishment, Councilman Donovan Richards will officially endorse Councilwoman Christine Quinn for mayor later today.
The 30-year-old legislator cited Ms. Quinn's work combating gun violence as a reason for his backing.
"Christine Quinn has proven that she can deliver, because she has been delivering for Southeast Queens for years now," said Mr. Richards in a statement provided to Politicker. "Whether it was Sandy relief, her leadership fighting for a fair trash plan for all five boroughs, or the work she led in creating the Council's Task Force to Combat Gun Violence, she is the kind of leader that you can turn to in order to get things done for your district."
The pair will be campaigning together in Far Rockaway later this morning.
In his endorsement, Mr. Richards, chosen in a February special election, did not follow the lead of his former boss, State Senator James Sanders Jr. Mr. Sanders, known for his go-it-alone style, endorsed Public Advocate Bill de Blasio earlier this year. Instead, Mr. Richards followed the famously unified Queens Democratic Party, which also backed Ms. Quinn back in May.
Mr. Richards's endorsement of Ms. Quinn is another example of the fault lines dividing the southeast Queens political class in the mayor's race. Several power brokers in the predominately black area, including Congressman Gregory Meeks, have endorsed Bill Thompson. At the Queens Democratic endorsement meeting in May, several black district leaders also indicated they would defy the party by supporting the former comptroller's bid.
For her part, Ms. Quinn lavished praise on the first southeast Queens elected official to endorse her candidacy.
"Donovan Richards is one of the most dynamic leaders of the City Council and is an aggressive champion of his district in Southeastern Queens," Ms. Quinn said in a statement. "He has been a leader in combating gun violence and I am honored to have his support for mayor and am fortunate to have him as part of Team Quinn."