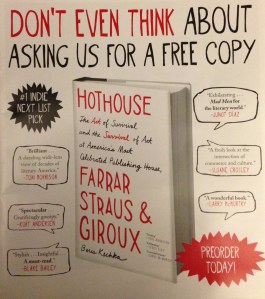 People in book publishing are accustomed to getting free books, but that particular perk doesn't make sense as a way to gin up excitement and generate publicity when the book in question's target readership is people in book publishing. So in order to sell Hothouse, Boris Kachka's history of Farrar, Straus & Giroux (which we reviewed in this week's paper), publisher Simon & Schuster has tried a novel approach: a well-produced mailer announcing that there will be no free copies. 

"Don't even think about asking us for a free copy," proclaims a glossy brochure that went out earlier this week. "Seriously. Don't even think about it," warns the back cover.
The brochure urges recipients of the mailing to preorder a copy of the book (it goes on sale on August 6): "Since your requests for Hothouse have left us (gratefully) overwhelmed, we've instituted a No Free Copies policy–even if your name's in the book."
The index for Hothouse runs long at 25 pages, and lists many people who still work in the industry, so that policy is pretty far-reaching.
The mailing includes an excerpt of the book, photos of authors and editors, a handy chart showing which editors published which authors, and a quiz to "match the Farrar, Straus personality to his or her Hothouse witticism."
If this marketing approach works, it could be the start of a trend. After all, people who work in book publishing are often the most likely to read new releases. But then again, Hothouse is a a special case.