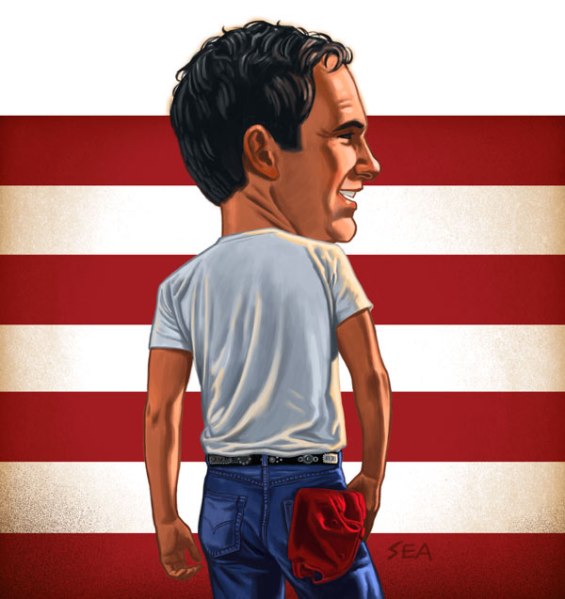 On the day of his inauguration earlier this month, Jersey City Mayor Steven Fulop was interviewed about his plans to transform his city.
With bravado, the smooth-talking new Democratic mayor declared on WNYC's airwaves that he wanted to make Jersey City the best midsized city in the country. The city is in the midst of an impressive and ongoing renaissance, and Mr. Fulop said his vision was to entice young urban professionals priced out of Manhattan to cross the Hudson in lieu of settling in Brooklyn and Queens.
But the pitch almost seemed to fall on deaf ears as host Brian Lehrer supplied his Big Apple listeners with a geography lesson.
"By the way, for those of you New Yorkers who think riding the PATH train would be an exotic adventure, Jersey City is right across the Hudson River, below the Holland Tunnel," he declared.
A couple weeks later, Mayor Fulop sat in a bare second-floor office at City Hall, shaking his head in disappointment and calling the notion that New Yorkers have never visited Jersey City—New Jersey's second-largest city, after Newark—"insulting."
"Part of our challenge is a 'branding' issue. People across the river view us in a way that it's like another country," Mr. Fulop said. "It's a mental barrier, but really we are no different geographically than Brooklyn or Queens."
Likewise, he disdains the cliché that Jersey City is New York's "sixth borough," preferring that his 21-square-mile city—stretching across the peninsula between the Hudson and Hackensack Rivers and home to more than 250,000 residents—be regarded as having its own identity.
Beyond the city's marketing strategies, Mr. Fulop faces formidable challenges. He now runs a city government that is facing a $21 million revenue shortfall and is still reeling from the effects of a 2009 FBI corruption sting that netted several officials, including the deputy mayor and the Council president, for taking bribes from developers.
But the 36-year-old has big ideas for the future and a strategy that's exciting the hopes of an entire city.
FROM DELI WORKER TO WALL STREET
Steve Fulop's biography reads likes Horatio Alger: he grew up in middle-class Edison, N.J., the second of three sons of Israeli and Hungarian immigrants. His parents owned a deli in Newark, where Steve worked as a teenager. His grandparents were Holocaust survivors who the Fulop family says came to America penniless.
Mr. Fulop moved to Jersey City in 2000 while at Goldman Sachs, where he worked as an equities trader. He first got involved in community groups because of frustration over a lack of neighborhood parking—"You know, the tremendous growth and no parking—it was kind of like a nuisance to me," he recalls.
His path in the world of finance seemed pretty typical. And then jetliners struck the Twin Towers on September 11, 2001. Mr. Fulop was just a five-minute walk away and felt the pavement rumble as the towers were hit. He describes the moment as an epiphany: he took a leave from his well-paid job and signed up with the Marines. In the Corps, he did a short stint in Iraq, returning home in the summer of 2003.
Another key turning point came via the city's first black mayor, Glenn Cunningham, who thought the young Wall Street Marine had a promising future. Mayor Cunningham enlisted Mr. Fulop for the kind of suicide mission that helps an ambitious young politico make his bones—he ran in the Democratic primary against Mr. Cunningham's powerhouse political rival, 13th District U.S. Rep. Robert Menendez. Mr. Fulop lost by 69 percentage points. But afterward, armed with name recognition, Mr. Fulop was able to bounce back and win a City Council seat.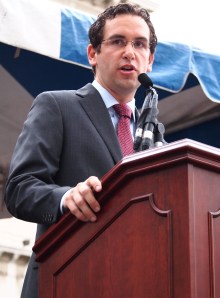 On the City Council, the skinny-looking novice immediately gained a pugnacious reputation: a man who was the frequent lone "no" vote against his eight colleagues. One councilwoman refused to sit next him. Mr. Fulop would introduce ordinances, fail to gain support, and then introduce the same laws again at the very next meeting. The Council, fed up, passed a law banning reintroduction, for six months, of any ordinance that failed.
"If somebody suggests something that is common-sense good government, like allowing the public to see meetings or better disclosure of things, and they pushed back so aggressively, it raised a concern for me," Mr. Fulop says. "When you put someone in charge of certain departments that literally had no wherewithal or experience on certain things, it raised a flag for me. As I questioned, and they pushed back more and more, it forced me to question more."
One benefit of the battling was that it earned him a following, and he responded in kind.
"It didn't happen by osmosis," says former Councilwoman Nidia Lopez, the first Hispanic woman on the City Council. "That man was shrewd. He didn't care where you lived; he would come to meetings in everybody's ward, and he made relationships and used technology … some of the old-timers, all they knew was how to answer their phone."
THE SWAMPS OF JERSEY
Mr. Fulop's mayoral predecessor, Jerramiah Healy, was not among those arrested in the federal corruption sting. But it eroded his hold on power. It didn't help matters that Mr. Healy had already been photographed passed out and naked on his front porch, or that he had repeated minor scrapes with the law—Mr. Healy "was sort of like that disheveled guy at the neighborhood bar that everyone liked, but he might embarrass you if he had one too many drinks," said Agustin Torres, columnist for The Jersey Journal.
Mr. Fulop capitalized on Mr. Healy's checkered past and the City Hall corruption that had tainted him. He ran against Mr. Healy with a simple slogan: "Enough." The race was bitter, high-profile and costly. Mr. Healy drew all the endorsements of the traditional Democratic establishment, including President Barack Obama and next-door mayor and now U.S. Senate candidate Cory Booker. But he failed to capture the public's imagination. Mr. Fulop did.
"For a community to reinvent itself, you need a catalyst for change," said Anne McTernan, 32, an architect who's an associate director of the Jersey City Art School and is among a group of artists trying to refresh the city's alleyways with bold murals. "Everyone knew that he [Mr. Fulop] would be that catalyst."
Mr. Fulop won nearly every ward vote. His Jewish background didn't hurt him with Jersey City's large community of Pakistani Muslims—his photo hung in almost every mosque in the city—and he likewise managed to coalesce Filipino, South Asian, Korean, Italian, Irish, Hispanic and black support.
"While Jersey City is one of the most ethnically diverse cities in the country, many of those communities have been neglected for a long time and never had a voice in government," Mr. Fulop said.
Now, not only must he make good on promises to revive a decayed government, but he's got to figure out how to close the gap between the poorer working-class residents—those living inland next to I-95, beset by drug trafficking and shootings—and the wealthier newcomers living near the towers that dot the city's thriving waterfront.
GROWING PAINS
One of the planks of Mr. Fulop's platform was a vow to improve the city's failing schools—to keep yoga mommies from skipping town for wealthier suburbs once their kids reach school age. And that may be his toughest task: in New Jersey, a city's mayor has no control over its schools. But as the city's leader, he does have a loud voice in trying to persuade everyone involved that as the school district goes, so goes the entire city.
"If the schools don't succeed and the schools don't improve, it impacts our employment, it impacts our crimes, it impacts our taxes," said Mr. Fulop. The moment is ripe: despite the city government's past dysfunctions, Jersey City continues upward, literally: waterfront commercial towers have become its symbol of rebirth. And with those towers have come tax revenues from clean new development.
"We have the five biggest buildings in the state," said Mr. Fulop. "We also have some large buildings on deck coming into the ground, so building up is going to continue in a smart way near transit hubs, and building out into the inner part of the city is going to be a priority.
"We are going to continue to add to that skyline, but also incentivize development to move away from the waterfront."
The results are already on view: the grime of the 1980s crack epidemic, the empty storefronts and 99-cent stores that once dotted downtown are no more. They've been replaced by trendy French bistros where oysters are sold on the half-shell, pedicure salons and doggie boutiques.
Excitement about that potential is closely connected with Mr. Fulop's cultivated celebrity: young, energetic and visionary, he has become the darling of the media and of political circles. The New York Times has cited his "impressive résumé" that seems "to match the city's new ambition." For the mayoral inauguration, TV celebrity chef the Cake Boss created a special confetti-exploding cake.
Not everyone is in love with Mr. Fulop's army of gentrifiers—and his support from prominent Republicans has raised questions about his big-D purity. Those complaints will sound familiar to fans of Mayor Booker.
"Fulop's a spoiled brat. I put him in a category of Cory Booker. These new-age Democrats that have no working-class roots," fumed Alfred Olivi, a 71-year-old retired professor who lives in downtown Jersey City. As he watched Mr. Fulop's inauguration, Mr. Olivi cringed when Republican Gov. Chris Christie spoke adoringly of the new mayor.
Meanwhile, journalists gush over Mr. Fulop's humble origins and underdog success, and women swoon over his hunky Josh Groban-like looks and eligible bachelorhood (the first ad for the mayoral campaign featured Mr. Fulop swimming the mile-long stretch of the Hudson that separates his city from Manhattan).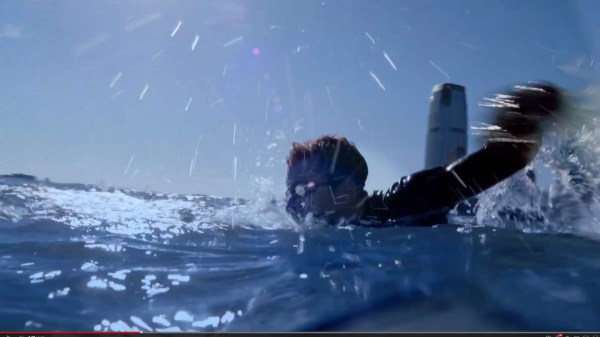 Asked about his "sex symbol" status during an interview, Mr. Fulop first tried—in his most serious politician's voice—to brush aside the question: "I don't think that's an accurate statement." But that part of the conversation later dissolved into a protracted giggle.
The media frenzy is partly of his own making: like the Newark mayor down the street, Mr. Fulop is a social media junkie who asks followers for suggestions—two weeks ago, he solicited ideas for potential redevelopment of an historic downtown power house—or posting play-by-play pictures of his life. One post documented the move into the mayor's office with photos of two sealed old safes. He mischievously asked, "Any guesses on what's inside?" To which one Facebooker replied, "A lot of Skeletons!"
When people speak of Steve Fulop, they don't use many words to describe him. Instead, they'll start flailing their thumbs in the air, mimicking the mayor typing on his smartphone. Still, his supporters say he's anything but aloof, and they praise his responsiveness.
Ed Goodall, 43, a city resident since 2006 and the father of two children, once emailed Mr. Fulop at 10:30 p.m. on a Tuesday about making a busy street near a playground safer for kids—and was surprised by an almost immediate response.
"It means he's either sad and has no life, or he's on … and I think he's on," said Mr. Goodall, who's representative of the new class of urban professionals with young families who have moved in during the last decade, attracted by the city's historic architecture and leafy, tree-lined streets—and, more importantly, by real estate priced far more cheaply than in more overgrown gentrified meccas such as Park Slope, Williamsburg or Hoboken.
Like many newcomers, he's concerned about whether he can raise his kids there, given the dismal state of Jersey City's public schools. Last year, the district's graduation rate was 67 percent, and the state said that 16 of the city's 39 schools needed major improvement. "Who would want to send their kid to the worst schools in the state?" Mr. Goodall asked.
Young parents such as Mr. Goodall support Mr. Fulop's loud advocacy of tenure reform and the expansion of charter schools. In that, he's ruffled the feathers of the teachers' union, because he's been successful in backing installation of a school-board slate sympathetic to his ideas for quickening the pace of school reform to match that of the gentrification he envisions.
BEHIND THE CURTAIN
It's important here to address the money behind Mr. Fulop: with his dazzling image has come campaign funding from people whose motives include philosophical reform of the school district.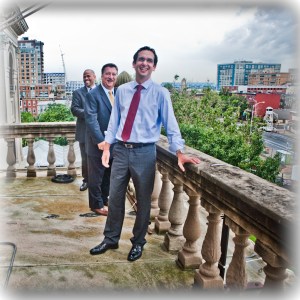 Billionaire hedge fund manager David Tepper's political action group, Better Education for New Jersey Kids Inc., spent more than $250,000 on ads supporting his election. Mr. Fulop's former campaign manager, Shelley Skinner, worked for the advocacy arm of Mr. Tepper's group, B4NJKids. They were proponents of New Jersey's tenure reform bill—an initiative praised by Republican Gov. Chris Christie that passed last year—more stringent teacher evaluations and the expansion of charter schools. Mr. Fulop, with the support of Mr. Tepper's group, has backed successive slates of winning school-board candidates who last year controversially hired a new superintendent of schools, Marcia Lyles, a former deputy chancellor in the New York City public schools. Ms. Lyles is also a graduate of the Broad Academy for superintendents, a program funded by another billionaire, Eli Broad, which critics say trains administrators to be hostile to teachers and favors standardized testing and top-down corporate-style management of school districts.
"Prior to him donating a dollar, we shared a common view about tenure reform," Mr. Fulop said of his relationship with Mr. Tepper's group. But, he said, "David has never asked for anything."
In fact, the men share something beyond a common view, and it requires a bit of Jersey geography to appreciate. Mr. Tepper is from Livingston, N.J., which is Gov. Christie's hometown. Livingston is adjacent to West Orange, which is home to the Solomon Schechter day school that Mr. Fulop attended. Both towns are in Essex County, a Democratic stronghold whose one prominent Republican elected official, State Senator Kevin O'Toole, happens to be a close friend of Mr. Fulop who donated $25,000 to his mayoral campaign.
These relationships give ammo to Mr. Fulop's critics, who call him a "Republican in disguise" for battling with the teachers' union, but he views himself as a strong Democrat, one who is in touch with the kind of change urban parents want.
"I am aligned where the Democratic Party should be," he said. "I think that the educational conversation is one of those kind of generational shifts: at some point, if Democrats don't get in tune with the issues over here as it relates to education and realistic about how to fix it, and you allow Republicans or others to talk about it, it's the type of issue that you will see a massive shift in urban areas away from strong Democratic voting blocs."
Another pressing issue is crime: Jersey City's violent crime rate is 7.8 per 1,000 residents, more than double the statewide rate of 3.1. But the proffered solution ties in with Mr. Fulop's greater agenda: redevelopment will bring the money that hires the cops who cut down on crime.
Here, too, lies complication: Mr. Fulop recently picked James Shea, a deputy chief in the New York Police Department's youth and gang crime division who helped devise training for the New York City's controversial "stop and frisk" program, which critics say unfairly targets black and Hispanic men, as the city's new public safety director. Yet as a mayoral candidate, Mr. Fulop said he opposed stop and frisk.
In steering through such complex matters, tangible and intangible, Mr. Fulop has looked to the Cory Booker model. Mr. Booker, Newark's dynamic mayor, didn't endorse Mr. Fulop. But for the last five months, they've been talking, and it shows. Taking a page from Mayor Booker's "Cory to the Rescue" comic book, Mr. Fulop rappelled down a 470-foot skyscraper in Jersey City to raise money for the American Cancer Society.
Mr. Fulop concedes Mr. Booker's influence. He said that his counterpart's ability to "expand his technology footprint" is impressive—"Cory is very good at spotting some of those trends and attracting private dollars to Newark."
The comparisons are also notable because, like Mr. Fulop, Mr. Booker dethroned an incumbent mayor, Sharpe James, by critiquing the excesses of an old-style Democratic machine.
It raises the question of whether Mr. Fulop, another self-styled reformer who's raged against the machine, can resist its pull.
In the meantime, there's optimism in the air, but it is not unbridled. After all, there's an old Hudson County adage that locals repeat with a knowing chuckle when talking about Jersey City politics: if you're going swim in that water, they say, pointing at the nearby Hudson, you are bound to get dirty.