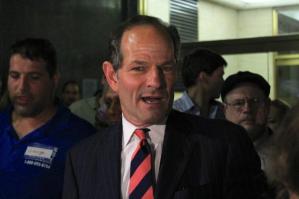 Disgraced former Gov. Eliot Spitzer's surprise comeback campaign for comptroller has generated a huge amount of attention from the media–as well as several characters with controversial histories, including former City Council candidates accused of sexual harassment and race-baiting.
Of course, candidates can't be held responsible for all of their supporters' actions. But because Mr. Spitzer's candidacy comes with its own scandal baggage, it is interesting to see who some of his most passionate supporters are.
When Mr. Spitzer arrived at the Board of Elections headquarters in Lower Manhattan Thursday night to drop off his boxes of signed petitions, he was joined by a gaggle of supporters, including a gentleman named George Smith. Numerous photographs taken that night show Mr. Smith, standing next to Mr. Spitzer, with a Board of Elections name tag affixed to his blue shirt identifying him as "George."
Mr. Smith, who ran unsuccessfully in 2009 for now-Public Advocate Bill de Blasio's City Council seat as a Republican, also has some skeletons in his own closet. According to articles published at the time of his run, he spent time in jail on robbery charges and for allegedly impersonating a cop. He also reportedly faced a slew of misdemeanor charges, including forcible touching, sexual misconduct, harassment and sexual abuse. At the time, his attorney had blamed the charges on his estranged wife.
Mr. Smith, a former Board of Elections employee, told Politicker that he was indeed at the headquarters with Mr. Spitzer Thursday night, but denied he had any formal role on the campaign.
"None, none. I just knew him when he was governor," Mr. Smith said when reached by Politicker Monday. "I like him. He's a nice guy."
He claimed he neither helped collect petition signatures nor had any current plans to join the campaign. "Not that I know of right now," he said.
Mr. Spitzer has also drawn another controversial supporter, Thomas Lopez-Pierre, another former City Council contender who was accused of being a race-baiting anti-Semite this year before he dropped his bid. Before that, he admitted to "sexist" advertising for a racy singles club.
Mr. Lopez-Pierre, whose campaign emails were filled with racial epithets, was among the fans who showed up at Mr. Spitzer's first campaign event in Union Square, where he eagerly signed Mr. Spitzer's petition and offered his enthusiastic endorsement.
"We're gonna support you in Harlem. Harlem's gonna come out and support you big-time!" he told Mr. Spitzer, describing himself as "a super-prime voter" who hasn't missed voting in an election since he was 18.
"I, Thomas Lopez-Pierre am proud to endorse former Gov. Eliot Spitzer for NYC Comptroller. Spitzer can be trusted to protect Black families!" Mr. Lopez-Pierre later tweeted.
Mr. Spitzer's spokeswoman did not respond to requests for comment.