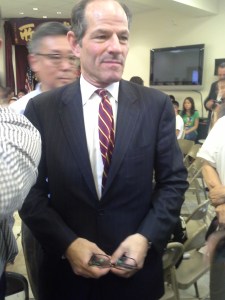 Eliot Spitzer took his comptroller campaign to Chinatown today, brushing off both his past indiscretions and new political action committees created solely to defeat him in his contest against Manhattan Borough President Scott Stringer.
Despite the pending assault, the former governor said he wasn't alarmed.
"Interest groups don't vote, people vote," Mr. Spitzer told a pack of English and Chinese-language media at the century-old Ling Sing Association. "I was not surprised that the establishment doesn't want me. They don't want an independent voice. My calling card, since the day I was elected attorney general, was independence."
"There are powerful folks whose toes I've stepped on," he added later on. "I've always been of the view that more speech is better and I am not one to criticize folks for participating in the political process."
While he revealed during an interview yesterday that he didn't think his fellow comeback candidate, scandal-scarred Anthony Weiner, should be mayor, Mr. Spitzer repeatedly declined to elaborate on his remarks, implying he thought he'd made a mistake by addressing Mr. Weiner's bid in the first place.
Several reporters from Asian media outlets also pressed Mr. Spitzer for his opinion on current comptroller and mayoral hopeful John Liu, an icon in the Asian community. Mr. Spitzer said he was not seeking the support of Mr. Liu, who has been deeply critical of the media circus surrounding both Mr. Spitzer and Mr. Weiner's candidacies.
Unlike Mr. Weiner, whose visit to Flushing yesterday featured some painful, halting Mandarin, Mr. Spitzer left the non-English-speaking to people like George Hu, a group member, who gushed in English and Mandarin about Mr. Spitzer's comptroller qualifications.
"He always emphasized that there is a big black hole in our financial system and if that is not addressed, the economy, security and our lives will be affected," Mr. Hu said. "Indeed, in 2008, as he predicted, this financial crisis affected our lives, our savings, everything … He is brave, he is courageous, he is smart."
For his part, Mr. Spitzer, who had spent the first weeks of his campaign largely appearing on television, vowed to continue these sorts of in-person appearances both during the election and after it.
"You will see me over and over and over. I work 24 hours a day," he told the group. "I do not run for office and then disappear. I love public service. When I was in office, I was at it until I was too exhausted to keep going. The reason is, because it's my job. If I win, to be responsive and work with you."