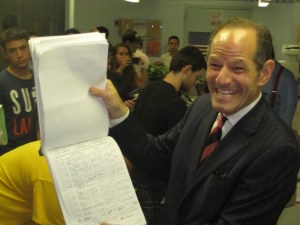 Disgraced former Gov. Eliot Spitzer managed to collect a whopping 27,000 petition signatures in the four days since he announced his last-minute, comeback bid for city comptroller.
A beaming Mr. Spitzer, joined by staffers, arrived at the Board of Elections headquarters in Lower Manhattan shortly after 10:30 p.m. carting four large boxes of signed petitions–which he gleefully displayed to the throngs of waiting press.
"It is an important statement to those who said it was not possible in the course of three-and-a-half days to gather enough signatures to get a candidate on the ballot for city-wide office. I'm proud that citizens, in an outpouring of support, have given us over 27,000 signatures," he said to applause from his staff.
He reiterated, "27,000 signatures"
Ever since his unexpected jump into the race late Sunday, critics and the press have questioned whether Mr. Spitzer would be able to collect the nearly 4,000 signatures required to make it on the ballot by Thursday's midnight deadline. But Mr. Spitzer, who reportedly paid his petitioners up to $800 a day, apparently succeeded with flying colors, collecting more than seven times the requirement.
Nonetheless, the quality of Mr. Spitzer's signatures remains in question, and many expect allies of his opponent, Manhattan Borough President Scott Stringer, to mount a challenge to try to push him off the ballot–efforts Mr. Spitzer dismissed as "frivolous."
"We have done this in the most meticulous way," he told reporters, making the case that any attempt to challenge him would be undemocratic. "I would think that anybody who would challenge 27,000 signatures would be sending a statement they don't really believe in democracy, they don't believe in primaries, they don't believe in the fundamental notion of competition to seek the votes of the citizens of the state."
After a brief press conference, Mr. Spitzer, who was forced to resign five years ago in a prostitution scandal, headed upstairs to the seventh floor, where candidates and staffers had been gathering throughout the day to finalize paperwork and submit their petitions. As he waited at the deli-style counter for his boxes to be processed, Mr. Spitzer appeared elated, mugging for the doting cameras with his signature pages.
For his part, Mr. Stringer, who had been expecting to sail to victory without a challenger, reacted to the news with a critical statement, touting his own impressive 100,000-signature haul–and taking a swing at Mr. Spitzer for using his own cash to finance his bid.
"If Eliot Spitzer cared about democracy, he would participate in the City's campaign finance program and not use his personal fortune to try and buy this election wholesale," Mr. Stringer's campaign said.
When he was done, Mr. Spitzer headed back down to the street, but seemed unable to tear himself away from the attention, stopping to talk to every waiting camera as he leisurely strolled from the board's headquarters to a waiting car.
And even as he loaded into the back seat, Mr. Spitzer appeared desperate to continue relishing his return to the limelight. Through an open window, he called out to two reporters standing on the sidewalk.
"Last question?" he asked, as the car drove away, waving goodbye with a maniacal grin.