Manhattan Borough President Scott Stringer today urged his supporters not to challenge former Gov. Eliot Spitzer's jump into the comptroller's race, after Mr. Spitzer turned in a whopping 27,000 petition signatures late last night. But Mr. Stringer's directive might not matter, given any voter can challenge the signatures' validity.
And, if such a challenge were to emerge, things could get interesting.
Politicker reviewed a selection of several volumes of Mr. Spitzer's super-speedy haul earlier today and discovered some revealing results. For instance, even though he jumped into the race just 96  hours before Thursday's midnight deadline, Mr. Spitzer's petitions suggest a well-oiled operation, with carefully completed pages collected from around the city by a large number of petition-gatherers.
And, despite speculation that Mr. Spitzer may have begun covertly collecting names before his surprise announcement Sunday night, all of the petitions in the bunch Politicker reviewed were dated from July 8th through 11th, with the largest hauls coming in on Wednesday the 10th and Thursday the 11th.
But there were several curious revelations as well. For one, Mr. Spitzer witnessed a number of the petition signatures himself–including several that do not appear to have been collected Monday during his media circus in Union Square, when reporters watched him collect fewer than a dozen signatures himself.
"He signed a petition putting himself in nomination, and he carried a few petitions with him and when people approached him on the street and asked if they could sign, he witnessed those signatures," his campaign spokeswoman, Lisa Linden, explained via email.
But observers said it was extremely rare for campaigns to include such signatures in their filings, because it can open them up to scrutiny.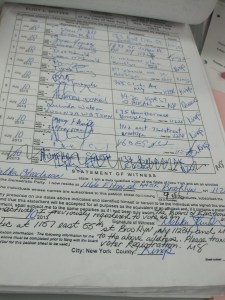 "It's very unusual," said election lawyer Leo Glickman, who explained that having a candidate serve as his own campaign's witness could make the campaign more vulnerable to charges of impropriety. It also means Mr. Spitzer could be forced serve as a witness if the signatures he collected were ever challenged, others said.
In additional, records show that at least one of Mr. Spitzer's canvassers appears not to be a registered Democrat–a requirement–while several others scribbled lengthy notes next to their signatures explaining various problems with address changes.
Campaign staffers, attorneys and voters, who crowded into the city's Board of Elections headquarters today to scrutinize rivals' petitions, have until  Monday, July 15th to file general objections, and then another week to file specific, line-by-line issues.
Many have speculated that Mr. Spitzer's enemies and Mr. Stringer's supporters might try to push Mr. Spitzer off the ballot–but Mr. Stringer urged them Friday not to bother.
"To any Stringer supporter who wants to go to the board of elections to take a look at his petitions, don't waste your time. You shouldn't do it," he reportedly said Friday. "We must have this race. You cannot run for control of the city of New York without a robust primary challenge."
For its part, Mr. Spitzer's campaign welcomed the news.
"Eliot is thankful to all the New Yorkers who signed petitions granting him a place on the ballot," his spokeswoman said in a statement. "He looks forward to making the case every day for an independent comptroller for the City of New York."