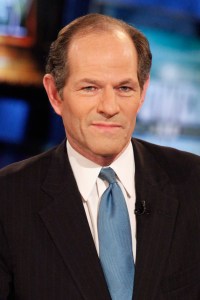 Last night, Eliot Spitzer sat down with CNN's Piers Morgan–marking the latest in a string of more than a dozen high-profile national television and radio interviews since he jumped into the race 11 days ago. He's been on Jay Leno, sat for interviews with Charlie Rose and Chris Hayes; and later this afternoon he'll be back on CNN for an interview with Jake Tapper, followed by a sit-down on Comedy Central's The Colbert Report.
The number of official appearance he's made on the campaign trail actually talking to prospective voters? Just 1–on his first day.
It's a curious strategy for a shamed former governor trying to reintroduce himself to the electorate five years after resigning in the wake of a prostitution scandal. Far from skirting the national limelight like fellow comeback candidate Anthony Weiner–who has spent the days since his launch hitting the pavement, chatting with voters at street fairs, outside subway stops and at brunch tables–Mr. Spitzer seems far more comfortable playing up his celebrity status in green rooms.
But Mr. Spitzer's spokeswoman Lisa Linden defended the strategy, noting that the campaign is less than two weeks old. In that time, she said, he'd done numerous interviews with national outlets as well as local TV, radio and print outlets–including speaking to nearly every local news station the Sunday he announced his bid.
"Voters in the City of New York are watching these shows … and it's also a way for him to convey his messages and things he stands for," said Ms. Linden, who noted that Mr. Spitzer, who did a stint as a CNN anchor and a talking head on NY1, also just genuinely likes being on TV. "Eliot is someone who has long enjoying working with the media, with reporters. And when opportunities–whenever they come up, whether they be local or national—when opportunities come up, he is eager to do that."
Democratic consultant Hank Sheinkopf, who previously worked with Mr. Spitzer, argued the strategy was, in fact, a smart one, for a candidate who comes off well in interviews and needs to make up for lost time. The fact that he's demand only helps.
"We'll have debates, we'll have televisions ads, we'll have all these things. But in the meantime," he explained, "what Spitzer is doing is becoming much more familiar to voters, in their homes. When they're in their beds, who do they see? Eliot Spitzer."
He claimed the tactic comes straight from the playbook of another scandal-scarred pol, former President Bill Clinton, who appeared frequently on late-night TV and talk shows as he was trying to rehabilitate his image. "Its absolutely helping him," said Mr. Sheinkopf. "Spitzer follows a perfected trail."
Others, however, were more skeptical of the approach.
"This is celebrity being the answer to electability, and either that's going to work for him, or it's not," said Democratic consultant Scott Levenson, who has worked on numerous local campaigns, but remains highly skeptical of Mr. Spitzer's candidacy.
He noted that Mr. Spitzer enjoys tremendous name recognition–and may be thinking that will be enough to beat his previously uncontested challenger, Manhattan Borough President Scott Stringer, who has dramatically ramped up his campaign since Mr. Spitzer entered the race. His schedule today, for instance, includes greeting voters on the Lower East Side during evening rush hour and a visit to a senior center on Corona, Queens.
"The problem with Eliot and his candidacy is the second he begins to do any real campaigning, he comes down to earth. He allows voters to look at himself and Scott Stringer on the same playing field, and that makes it race between two human beings. That's not good for Eliot Spitzer," he charged.
But Mr. Spitzer's spokeswoman, Ms. Linden, said that now that Mr. Spitzer has finished petitioning and has put a team together, voters should expect to see him switching tactics "soon."
"Going forward, he will be out on the street, he will be campaigning," she vowed.