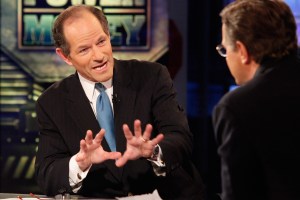 Disgraced former Governor Eliot Spitzer, who suddenly announced his comptroller campaign Sunday night, began to make his case to voters Monday morning in a round of TV and radio interviews.
Appearing first on the Bill Press Show, Mr. Spitzer tried to brush off comparisons to former Congressman Anthony Weiner's mayoral bid, saying he hopes voters can look beyond the prostitution scandal that forced him to resign from office five years ago.
"This is a land of second chances," he said. "I think it is a land of forgiveness … People in their natural goodness understand the fact that we err, we sin, we pay a price and hopefully continue."
"Look, politics is a contact sport," he added. "I made significant errors. I stood up, accepted responsibility. Resigned. It's now been five years. I hope the public will extend its forgiveness to me."
Mr. Spitzer's entry has upended the comptroller's race, which has long been considered a shoe-in for Manhattan Borough President Scott Stringer, who cleared the field months ago. While some have accused Mr. Spitzer of trying to use the race as a stepping stone, he seemed genuinely interested in the post today. "Well, you know, I'm a boring, green eye—shades kind of guy, what can I tell you?" he joked.
In the interviews, Mr. Spritzer, who was known as the "Sheriff of Wall Street" when he served as attorney general, made the case for a much more activist comptroller's office. He argued the office should be auditing not just city contracts, but city agencies, assessing their performance in areas such as graduation rates–as well as use the city's clout to influence corporate policy.
"We own corporate America through our pension funds. These are the real owners of the shareholders," he said, claiming the city comptroller could impact everything from the way companies are run to reigning in monstrous CEO pay. "Shareholders haven't stood up. This is one way to reign it in."
While Mr. Press couldn't stop gushing over Mr. Spitzer (he said people had been calling all morning asking,' Where do I send a check?'), the reception was more skeptical over at CBS This Morning, where the candidate was peppered with rapid-fire questions, beginning with: "Why do you think people should trust you or like you?"
"I'm going to say, 'Look, I had a long career as a prosecutor, as attorney general, as governor. I sinned; I owned up to it. I looked them in the eye. I resigned. I held myself accountable. I think that was the only right thing to do. It's now five years later,'" Mr. Spitzer replied. "There's a record there that I hope they will look to and say, 'Yes, the comptroller's position is one that fits his skill set and we hope that we can bring him back for public service.'"
"I like to think I've got a record of substantive accomplishment," he later told WNYC's Brian Lehrer.
Mr. Spitzer was also asked repeatedly how he planned to cope with all of the tabloid headlines that are sure to accompany his entry. "You need willpower, you need fortitude, you need a skin as thick as a rhinoceros has," he told CBS, echoing a statement Mr. Weiner has given himself on the issue.
Mr. Spitzer was asked whether he's looking for redemption.
"I don't want to be glib and say, 'No, this has nothing to do with it,'" he admitted. "I think anybody who's been through what I've been through, sure you want redemption, I don't think this is the best way to get it. If that's what I wanted I don't think this is the path to it."
"New York voters seem to be being asked to give a lot of forgiveness this election," Mr. Mason replied.