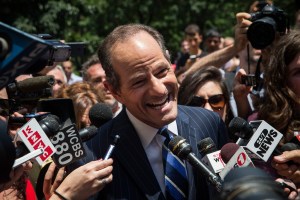 As the city's Democratic establishment rallies against ex-Gov. Eliot Spitzer's comptroller candidacy, it turns out there's something they can both agree on: Anthony Weiner shouldn't be mayor.
Mr. Spitzer, who's tried his very best up until now to avoid commenting on his fellow scandal-scarred pol, was cajoled into weighing into the race on MSNBC's Hardball this evening.
"If you had to vote for mayor right now, who would you vote for?" host Chris Matthews began.
"It's a great question, but–" Mr. Spitzer attempted.
"Answer the question!" Mr. Matthews railed.
"Look," Mr. Spitzer said, unable to give his desired non-answer. "Look, Look–"
"Show you're different from most politicians!" Mr. Matthews exclaimed. "Just say you're going to vote for Quinn, or whoever. Thompson. You're not going to vote for Anthony Weiner."
"Fair point. That is correct," Mr. Spitzer conceded.
"He should not be mayor of New York," Mr. Matthews flatly stated. He paused to let Mr. Spitzer confirm the sentence's claim.
"That is correct," the former governor finally said.
Mr. Spitzer's mayoral choice, or lack thereof, places him on the same side as most of the city's electorate. A new poll out today shows Mr. Weiner sinking from first to fourth place in the Democratic primary to replace Mayor Michael Bloomberg.
Update: (6: 25 p.m.): In response, Mr. Spitzer's opponent in the comptroller's race released a statement criticizing his choice in the mayoral race.
"It's clear that Eliot Spitzer thinks there are two standards – one for him, and one for everybody else," spokeswoman Audrey Gelman said. "His comments are the height of hypocrisy."