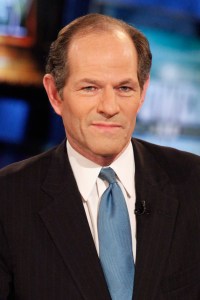 Call it the year of redemption.
In the second shock entry of this election season, Eliot Spitzer, the former New York governor who was forced to resign during a prostitution scandal, is planning to re-enter politics with a run for city comptroller, a source close to Mr. Spitzer confirmed Sunday night.
Mr. Spitzer, who has refashioned himself as a television commentator in the five years since his resignation, is apparently planning to jump into the race immediately, aiming to begin gathering the necessary petitions to challenge Manhattan Borough President Scott Stringer for the Democratic nomination tomorrow, according to the New York Times.
And the clock is ticking. Mr. Spitzer must collect a minimum of 3,750 signatures from registered voters by Thursday, the city's petitioning deadline. He plans to forgo the public finance system, paying for the campaign with his own cash, the paper said.
"I'm hopeful there will be forgiveness, I am asking for it," Mr. Spitzer told the Times in a telephone interview, echoing another unexpected candidate, Anthony Weiner, who has upended the mayors race with his unlikely jump into the fray two years after he was forced to resign from Congress after a sexting scandal.
The former attorney general, who shot to stardom as the "Sheriff of Wall Street," said he thinks he have a a significant impact on the comptroller's office, giving it a more activist role.
"The metaphor is what I did with the attorney general's office," he told the paper. "It is ripe for greater and more exciting use of the office's jurisdiction."
Back in March, Mr. Spitzer told The Journal News that he had "an intellectual fascination" with the state comptroller's office and hinted he was thinking of a return to politics.
"I think if you ask anybody who's been in elective office, there is always a desire to get back into an arena that is fascinating, rewarding, full of excitement and tension," he told the paper, adding: "It's somewhat like athletes: rarely do they know exactly when it's best to leave."
He continued: "It doesn't mean you succumb to that temptation. It doesn't mean that you do get back in …. It doesn't necessarily mean that you don't do it either."
Mr. Stringer's spokesman said he would soon have a statement to respond to the news, which sent the city's political world aflutter Sunday night.
While Mr. Spitzer has sky-high name recognition, Mr. Stringer has already locked down endorsements from a slew of unions and the bulk of Democratic electeds, some of whom quickly began flocking to his side.
"Scott Stringer has been an exceptional borough president with the highest ethical standards," said City Council Speaker and mayoral candidate Christine Quinn in a statement. "He has my full support and I will do whatever I can to help him become the next comptroller of the City of New York."
Additional reporting by Colin Campbell.
Updated at 9:12 p.m.