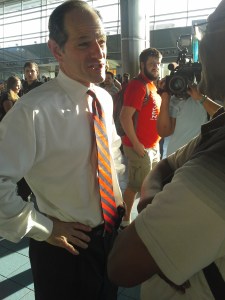 Former Gov. Eliot Spitzer, felled by a prostitution scandal five years ago, found a forgiving crowd in Staten Island this morning during the third official campaign stop of his surprise bid to become the city's next comptroller.
"No matter what happened, you know, he is a good politician," said Emely Gutierrez on her way to work as a personal assistant in Manhattan. "I've read about him a lot, many Spanish people like him, me and my friends all like him. The other guy, he doesn't have the experience."
The response came as Mr. Spitzer was standing in the Staten Island Ferry terminal with a cluster of sign-wielding volunteers and greeting voters. Unlike his very first campaign appearance at Union Square the day after he'd announced his candidacy, a campaign machine appeared to be whirring behind him; glossy leaflets touting his work as an attorney general cracking down on large corporations were on hand, slipped into the hands of hurried commuters; and volunteers hurried about, touring Mr. Spizer's candidacy.
Even Mr. Spitzer's arrival seemed adequately choreographed. As a small group of reporters waited in the sun-drenched terminal, Mr. Spitzer and his band of volunteers paraded off the ferry, signs in hand. Clad in a white shirt and striped tie, Mr. Spitzer struck up quick conversations with the voters that his aides wrangled for him.
Overall, the self-anointed "steamroller" tried to convey his softer side.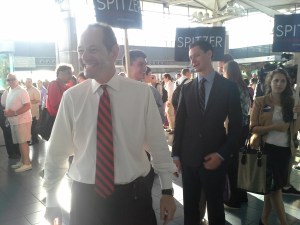 "Freshman in college? Man, I'm losing my touch. I'm getting older, everyone looks younger. Where do you go?" Mr. Spitzer asked while schmoozing with a fresh-faced college student who Mr. Spitzer apparently thought was far younger.
The thin male teen, a bit shy, said Brooklyn College.
"Excellent, my nephew just got a master's degree at Brooklyn College. Go study hard," came the reply.
Mr. Spitzer even seemed a tad grateful that throngs of reporters were no longer shadowing his every move.
"On the one hand, it's important to talk to the press because the press communicates with many of the voters, obviously, that's the reality of life," he told Politicker after buying a cup of coffee for a volunteer. "On the other hand, I actually like talking to voters and it's a little easier when I'm not surrounded by cameras–most people look at that and say, 'Uh oh, what's going on here?'–so, I enjoy talking to voters and it's nice to be able to do it in quiet."
The campaign stop also afforded Mr. Spitzer an opportunity to interact with the minority, outer borough voters that he will need to win over to actually win the primary. Like his opponent, Manhattan Borough President Scott Stringer, he is a white Manhattanite, but Mr. Spitzer seemed to connect with the many black voters who spilled into the terminal.
"He's the man! He stands for everything good, I follow him on the news and stuff like that," gushed Rasheed Williams, who is black. "He's a good guy."
Mr. Williams, like several voters interviewed, did not even know who Mr. Spitzer's Democratic opponent was.
"I don't care," Mr. Williams laughed.
A middle-aged woman rushing by who refused to give her name did, however, have a few barbs for Mr. Spitzer.
"I'm sorry, I am not supporting you," she told Mr. Spitzer. Reporters, as she began darting away, asked her why she could not back the ex-governor.
"Why? Because I remember what happened a few years ago. I still can't say, 'Let's forget it,'" she added. "People have a short memory."
The mellowed Mr. Spitzer had no comment on the latest cybersex revelations surrounding Anthony Weiner, but Mr. Stringer's latest attack on Mr. Spitzer–he called the former governor's Albany tenure a "complete failure"–seemed to stir him.
"At the right moment, if we choose to look at it in terms of tenures in Albany, we will be more than happy to say what we did was vitally important for the citizens of this city," Mr. Spitzer said, listing accomplishments like increasing funding to city public schools. "Any parent who has a child in the educational system will appreciate I stood up for the citizens of this city."