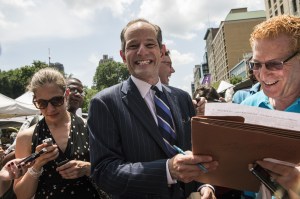 Earlier this morning, scandal-scarred former Gov. Eliot Spitzer was confronted with one of the bluntest question of his short-lived comptroller campaign.
"You solicited prostitution, does your candidacy send a positive message to women who no longer want to be seen as objects?" asked Susan Arbetter, the host of The Capitol Pressroom radio show.
Mr. Spitzer began his defense by applauding the question's directness–"You framed the question properly, perfectly," he said–but pivoted to other aspects of his record he felt better stood up to this kind of scrutiny.
"I would say merely this," he said. "We signed and shepherded through a human trafficking bill when I was governor. And I believe deeply about these issues. My behavior obviously didn't comport with that."
After admitting fault, Mr. Spitzer argued it would be up to voters to forgive him for his wrongdoing, or not, and said he would "defer to that judgment" come Election Day.
"I have looked the public in the eye–or in the case of radio, spoken to the public–and said, 'I understand that.' I have thought about it. I hope that I have reacted properly in my heart and my soul and I'm asking to serve again, having tried my very … best to understand what I did improperly," he said.
"Some voters … will listen to this and say, 'No. We don't want to support you.' I understand that," he added. "I defer to that judgment and respect it. I'm hoping others will say, 'Yes, we will give him a second chance and understand the magnitude of what he did improperly, but also look at what he did properly as attorney general, and governor, also whatever, and will vote for him.' That is the way that I see this issue being framed."
Mr. Spitzer's decision to grant an interview on the Albany-based The Capitol Pressroom also raised some eyebrows about his broader strategy, especially given the fact that he interviewed on an Albany-based show last night as well. Mr. Spitzer is feverishly working to gather enough petitions to make the ballot as comptroller–a difficult task made potentially more so with every hour of time spent making his case to constituencies outside of the five boroughs. However, Spitzer spokeswoman Lisa Lindin said their media strategy made sense in the context of Mr. Spitzer's background.
"He was governor and has different relationships," she told Politicker, noting the shows reach some non-Albany voters. "He gets a ton of media coverage … He's just picking and choosing."
Mr. Spitzer, who announced his campaign on Sunday night, has until Thursday to amass at least 3,750 valid signatures from registered city Democrats.
Additional reporting by Jill Colvin.