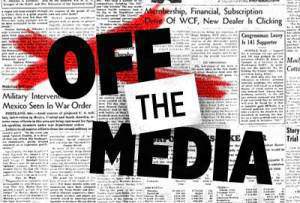 It doesn't take Noam Chomsky to see that the state of media is bad.
But in 2011, I had the sense that most people didn't fully grasp the absurd lows the system was spiraling toward. So I set out to illustrate it.
And in the process surprised even myself.
When I sold my first book of media criticism to Portfolio/Penguin, I decided to use the launch itself as an experiment. I even wrote some of the experiment into my book proposal and subsequent deal.
It went like this: I would grossly exaggerate the size of my book advance in a press release and let the gossip mill take this number and run with it. I would encourage bloggers and reporters to speculate that it was a celebrity tell-all about high-profile clients of mine like Dov Charney and Tucker Max. In effect, I'd be using the media's weakness for sensationalism to get them to expose their weakness for sensationalism (and give coverage to my indictment of them, something they'd otherwise be reluctant to do).
It was a lot simpler to execute than you'd expect. All it took was writing in my announcement that the book had been acquired in a "major deal." This was quickly picked up by the publishing industry blog GalleyCat, which immediately interpreted this to mean my advance was $500,000. (I cannot actually disclose my advance, but I'll say it was large enough to buy a house, just not THAT nice of a house).
Then I sent an anonymous tip to Jezebel with the link. Within minutes they ran a piece that was so poorly researched that they actually thought Dov Charney was the one writing the book. Sensing blood, I emailed Gawker reporter Hamilton Nolan under the fake name "Mindy Vasquez" (registered with Gmail minutes before) and wondered aloud why a publisher would offer $500k for such a book unless there was "major dirt on a celeb."
I emailed Hamilton as Mindy at 1:46 pm. At 1:55 pm he emailed me, Ryan Holiday, at my American Apparel email address, having so shamelessly followed the lead of an unsubstantiated tip and asked of the advance: "That's a big number, which would seem to indicate it's a tell all book. True?"
I replied, "No comment."
His story appeared shortly after: "Tucker Max and Dov Charney, Together in a Single Book." That post did 40,000 page views.
This is all it takes to create a major online story, one that was picked up by dozens of media outlets and generated hundreds and hundreds of comments. The kind of story that to this day makes people think I was paid a half a million for my debut book. (Let me tell you, people are quite nice when they think you suddenly come into that kind of money.)
If you were ever wondering how the sausage gets made, well, this is it.
There is a great line from Thucydides, "So little pains do the vulgar take in the investigation of truth, accepting readily the first story that comes to hand." Well, today, people are paid to do that. And they call themselves journalists without a hint of self-awareness.
Only one outlet actually bothered to do any research and get their hands on this book proposal, in which I, you know, explained exactly what I was doing, and had freely distributed all over town. That outlet was the New York Observer (at the time, we had no affiliation). But when the Observer made it obvious how embarrassingly wrong these blogs had been, did any of them bother to change their story?
Of course not!
I'm not bragging. I don't really think the stunt is all that funny. I bring it up to make clear just how easy it is to manipulate the media, how they are negligent to the point of being complicit, just how willing major websites are to accept dubious sources or gossipy stories.
It's worth asking, "Why?" Why does this system work this way? One reason is that the process is mostly obscured from the reading public, which is why I felt that my stunt was the only way to illustrate it. The second reason is greed. In a system in which profit is determined by clicks and pageviews–and those things can't be undone, even if the story turns out to be bogus later–bloggers have no real motivation to publish the truth. I like Nick Denton as a person. It's just the incentives he's set up that are toxic.
Having known all this–how Gawker and other blogs source their stories–the last year or so has been rather interesting for me, because I have watched as these same blogs were responsible for reporting on major news stories that had serious news implications.
In the last few months alone, Gawker broke the story that Michael Arrington had possibly raped a woman.
Gawker broke the news that there was supposedly a video of Toronto mayor Rob Ford smoking crack.
And so I observed the rest of the media following their lead on these stories, never questioning the motives, never looking into the method. Perhaps Gawker will end up being right about these stories. But if they are, it may have more to do with broken clocks being occasionally correct than it will with earnest journalism.
A long time ago, Gen. Smedley Butler defined a racket as something that "is not what it seems to the majority of the people," where only a small group of insiders know what's really going on and they operate for the benefit of a few and expense of basically everyone else.
It's become clear to me that this is the only definition of the online-driven media system of today: a racket.
A racket where investors and media moguls make millions, where individual bloggers driven by pageview bonuses exaggerate and distort the news for their share of the bounty, where promoters using tactics like mine can generate massive publicity for free, and readers–having no idea that this is occurring–click away, think they are receiving "news."
The ultimate irony of my experiences launching this book–and I'm not complaining because it has done well for me–was watching the media contort itself to explain away what I exposed. Just last week, the same Hamilton Nolan wrote an article that called me a liar. I suppose cognitive dissonance (and a guilty conscience) explains that–why someone who will literally publish anything that lands in his inbox would want to be aggressive about making sure that other people are labeled as dishonest. Rackets have to be protected after all.
But it has been sad to watch. Not that I expected one book to change everything; I'm not some rosy-glasses idealist. I just figured things might get a little bit better, rather than much much worse. I thought certain media outlets might take steps to close the loopholes that allowed fake news through. My mistake was hoping that they were as disgusted with the racket as I was.
Even after I explained how all this worked, even after I revealed my personal playbook (and the media games that others play), no one in the media did anything about it on purpose. They dove head first into the stories I mentioned earlier, excoriating the likes of Michael Arrington for heinous crimes despite preposterously sketchy evidence. And as Gawker editor John Cook was forced to admit when Gawker was unable to produce the Rob Ford video that they'd gotten millions of pageviews from and taken $200,000 of reader's money for, "Our decision to publish was informed by [a] desire to get ahead of any rival stories that the gossip mill might generate."
Oh, OK.
There have been countless more stories–less serious but still sad–driven by this impulse. Not just by Gawker but by every blog, newspaper and television station. From Sean Parker's $10M ecological disaster that appears to have been utterly misreported by every blog on the internet, to the Michael Douglas "I got HPV from oral sex" story that everyone was laughing at (even though what he was saying was actually correct). These are the stories that they use to make money, at the expense of you and everyone else.
It's easy to forget the costs of all this. We may not have much sympathy for someone wealthy and with an abundance of personality like Sean Parker, which I understand. But should we really identify with and support the people who attack him solely to enrich themselves? People who could give two shits about whether their story turns out to be completely and utterly incorrect down the road (even though that's pretty much the main part of their job)?
I wanted to wait to come out with this until now. So, free from the confusion of the event itself (of course I chose the week of my paperback release because that's my job) I could make it utterly clear how embarrassingly and easily the media will fall over itself to report basically anything. How free publicity for a book or a person or cause is as simple as a fake email. Or worse–that bloggers will invent the news themselves if it serves their interests.
It's obvious who is doing the lying here. It's time we ask ourselves: What are we going to do about it? When are we going to see this racket for what it is?
Ryan Holiday is the bestselling author of  Trust Me I'm Lying: Confessions of a Media Manipulator and a PR strategist for brands and writers.