Prospect Lefferts Gardens sure has come a long way! When we moved to the neighborhood last February, a few brands of kettle-cooked chips at the Yemeni guys' bodega on Flatbush were the closest thing there was to gentrified retail.
But just a few weeks ago the folks at the Wholesome Gourmet Market unsheathed their new storefront, which had been covered up for months as it was being transformed from a ratty bodega into a glass-walled, grade-A bougie market. The shining beacon of gentrification anchors the short stretch of Lincoln Road between Prospect Park and Flatbush Avenue that we call Hipster Row, which along with the B/Q station is home to Lincoln Park Tavern, a new coffee shop (is that Cor-Ten steel we see on its sign??) and the Maple Street School, a $1,689-a-month "parent cooperative preschool."
And while we appreciate the efforts of the folks at Wholesome Market to meet the market's need for Japanese ice cream balls, we have to wonder: is there really demand in Flatbush, land of the dollar van and elderly West Indian women selling spices out of shopping carts on Church Avenue, for a $9.99-a-bottle juice cleanse?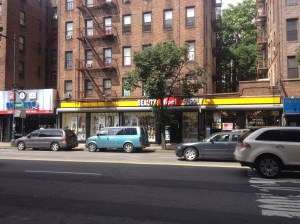 Luckily, it's not all 24-hour gluten-free chips and brie (which this reporter may or may not have availed himself of last night at 2 a.m.)—future residents of the neighborhood's "game-changing" 23-story building will find that a bit of the old Flatbush still shines through: Prospect Lefferts Gardens' hair industry is still alive and kicking. Just a few months ago a new hair supply emporium opened up just around the corner on Flatbush Avenue, renting a massive storefront and installing a glassy new façade.
At least for the moment, the hair salons of Flatbush—lit, braiding well past midnight on weekends and more than a few of them kitted out with shiny new hardwood floors—can coexist with kale chips.