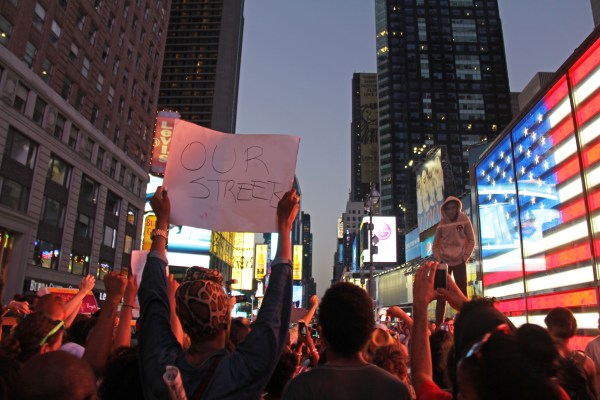 "Trayvon did not have to die," they chanted. "We don't know the reason why."
A crowd of thousands demanded justice for Trayvon Martin as the group marched en masse from Union Square to Times Square yesterday. Angry over George Zimmerman's acquittal on all charges in the shooting death of the Florida teen, the protesters decried what they described as a starkly unjust ruling. The march culminated in a "shut down, sit down" protest in Times Square around 9.30 p.m.
Kerry McLean, 32, one of thousands who attended, said the protest was "empowering and cathartic." Ms. McLean maintained that prosecutors had handled the trial badly. "I'm an attorney and it seemed like a circus to me," she said. "It's a travesty of justice. I'm really terrified of the message it has sent to the country and the world … The message that black people's lives have no value in America."
She also took issue with the composition of the jury.
"I was disappointed that in such a racially charged case that you had a jury with no black people," Ms. McLean said. "Any black person living in America is used to discrimination. When you walk into a department store, no matter how nicely you're dressed, people are watching you as if you're a thief. It makes me feel like I'm living in some other time, like I'm living in the past."
Kayla Rivera, 23, said that Mr. Zimmerman should have been found guilty of manslaughter. "It's extremely unjust, without a doubt. He should be serving time for shooting a young child, regardless of race," Ms. Rivera said, adding that if Mr. Martin, who was 17 when he died, had been white, "Zimmerman would never have gotten out of the car."
Elliot Cotan, 48, described Florida's controversial "Stand Your Ground" Law, which allows people fearing for their lives to use fatal force even if they can otherwise retreat, as "crazy."
Mr. Cotan said police in Florida did not immediately arrest Mr. Zimmerman following the shooting on February 26, 2012 because they "identify with him."
"It's the cops' mentality: You see a black kid, you shoot him. I'm sorry to say it, but that's how cops are," he argued. "The verdict is a total outrage. It sends the message that there's no justice in this country and the cops in Florida are a bunch of racists."
Other reactions were similar. Ruodi Duan, 20, said the outcome of the trial made her "a combination of outraged and sad."
Prince Akeen, also 20, said that if the racial roles were reversed in the case, the verdict would have been very different.
"I bet you if that was me as a black man who killed a white kid, I would be doing life right now," he said, pivoting to a topic closer to home. "At 15 years old, I was mauled by the cops."