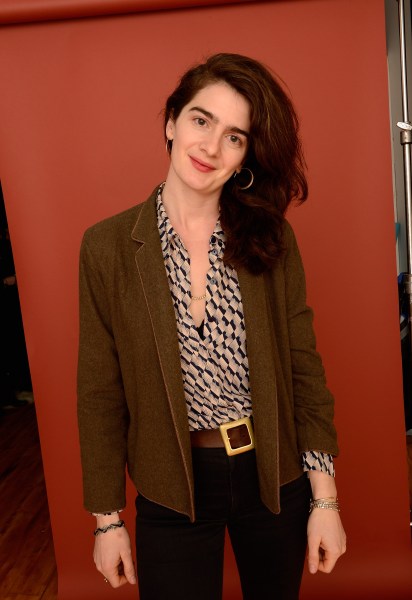 You may have grown up with the child actress Gaby Hoffmann, but you surely did not grow up in the same way. From a quintessentially downtown upbringing at the Hotel Chelsea to renouncing a flourishing film career to attending Bard College, then drifting for some time from one interest to another, including interning as a chef and training as a doula, and now back to acting in theatre and film, Gabrielle Mary Antonia Hoffmann has willingly taken the long way around. Now, at age 31, she charms as the sweet, spacey American in Chile in Sebastian Silva's new movie, Crystal Fairy. But then again, she's been charming us for most of her life. 
Ms. Hoffmann was born into the indie art and acting world of the early 1980's. Her mother, Janet Susan Mary Hoffmann, was Viva, one of the superstars in Andy Warhol's art house films of the late 1960's. However, she may be best remembered for being on the phone with Mr. Warhol when he was shot by Valerie Solanas (she was having her hair done at the time). Other family members included Viva's ex-husband Michel Auder, a video artist who married the photographer Cindy Sherman. And Ms. Hoffmann was raised in an apartment at the Hotel Chelsea, a favorite of Mr. Warhol's Factory group as well as, over the years, many notables of literature, music and art. By the early 1980's the punk of Sid Vicious was over, and residents began succumbing to drug addiction and AIDS. However, the hotel still retained its artistic and creative spirit. Ms. Hoffmann remembers it fondly. "It was a really great place to grow up," she says, "and it was a unique way of growing up in New York City. That hotel functioned as a small town, almost. It's not really possible now to be a six-year-old with independence in Manhattan, but the Chelsea provided this little protected community. I was friends with the bellman and got into trouble in the hallways."
Trouble like finding the occasional crack vial.
Ms. Hoffmann recalls that her mother illustrated an unpublished book called Gaby at the Chelsea, a take on Kay Thompson's classic Eloise. Unlike Eloise, there was no chatting with the nanny or feeding tomatoes to the pet turtle. "I think it was about me walking my dogs on 23rd Street and getting in a fight about the dog shit. That and having encounters with my buddy the homeless guy who lived on the corner, and finding drugs in the hallway." Eloise seems like a staid, boring cousin by comparison.
While sprinkled with interesting bohemians, life was gritty. Ms. Hoffmann, her half-sister and mother were on and off welfare. She recalls the landlord telling her—every day—to get her mother to pay the rent, which ultimately served as the impetus for her acting career. "We were really struggling," Ms. Hoffmann explains. "My mom was a single mother, raising my sister and me. My mom has an incredible talent for living in the world without traditional structure, and her friend,  who was in advertising, put me in a commercial when I was five. It was just to make money." A stand-out was a Don't Do Drugs public service spot with Drew Barrymore. Considering her background, it seems like a subject she would have been more knowledgeable about than many youngsters.
The commercials evolved into much more.
Ms. Hoffmann quickly became the go-to child star of the late 1980's and early 1990's, appearing in Field of Dreams, Uncle Buck and Sleepless in Seattle. She's perhaps best remembered for playing the younger version of Demi Moore in the 1995 coming-of-age comedy Now and Then. As the young Samantha who just wanted to fit in with her three friends, Ms. Hoffmann was the "weird" girl who liked performing séances and whose parents were divorcing. Often described as a female version of Stand by Me, the film is so beloved that ABC Family is currently working on turning it into a television series. Despite the series of successful films, Ms. Hoffmann never felt devoted to the acting profession. She claims that she was acting simply for the money, and to support her family. Viva acted as her manager, while appearing in a few small films like The Man Without a Face herself. Ms. Hoffmann often felt she was about to quit. "I announced my retirement about four times when I was a kid," she recalls with a laugh. "I would always say, 'I [just] want to be in third grade,' and my mom would say, 'Of course you don't want to work! It's a horrible business!' And then two months later I'd change my mind, and my mom would say, 'Let's go make a movie!'"
And then Ms. Hoffmann really retired from films, which may have been surprising to everyone but her. "I always knew when I graduated from high school I'd go to college. I never thought about what I was walking away from . . . I just wanted to study literature and writing." She came back to New York from California and attended Bard College. She studied literature. She drifted. Yet she could never quite give up acting. Partly, Ms. Hoffmann claims, that's because she knew no other way to make money (though she reflects that she'll never make the same money she did when she was a kid, as big Hollywood  movies—of which there are fewer and fewer—pay  much more than the indie films she's interested in now. But the fact that she felt some enduring pull to the profession made it difficult to hold down other jobs.
From theater work she gradually returned to film acting. This was, according to Ms. Hoffmann, "a very long, confusing process." She was ambivalent and not fully committed to the work. "I needed to dip my toe in over and over again . . . I wasn't committed. I wasn't good. If you're doing something sort of half-assed, you won't be good." Ultimately, she set herself a one-year deadline "to figure this out one way or another," and two months later the Crystal Fairy project came along.
Sebastian Silva's Crystal Fairy, in which Ms. Hoffmann co-stars with Michael Cera, has been described as a hippie-trippy road film. As the young woman—variously described in reviews as a "chakra-toting, love-preaching free spirit" (NPR) and a "crunchy-granola Earth goddess" (New York Post)—swirls onto the screen, Cera's character Jamie (admittedly in a cocaine haze) sees her as a "tornado." Ms. Hoffmann's whirlwind energy infuses this movie about a group of twentysomethings traveling through Chile to find the San Pedro cactus with an emotional quality. What might have been just another story about Americans doing drugs becomes a nuanced portrait of cultural differences.
The actors filmed on location in Chile. A week was spent in Santiago doing pre-production. Ms. Hoffmann saw this time as "an ideal way to experience a city, because Sebastian is from there. We were immediately injected into the community, and we were staying at his parents' house. It was an instant, full life I was handed." Then moving north to film, she describes the process and the country enthusiastically. "I loved it. The people were amazing . . . Being on a traveling movie set is all-consuming. I love to experience places like that in that way." She views her director and co-star equally positively, saying, "I would follow Sebastian into a flaming desert on any a day. I have utter faith in him as a filmmaker and a friend." And of Michael Cera—whose character is described by Rolling Stone as "an anal, controlling jerk," "a sexually degenerate cokehead" and "annoyingly insecure"—she says, "Michael is one of the most wonderful people I've ever come across. He's incredibly talented; that's why he [is able] to seem so unlikable in the movie."
Though it's not always the region or the story or the generally good reviews that seems to be fueling much of the discussion of this film; people are fixated on that fact that, when Crystal Fairy is naked, she's revealed to have body hair. Throughout, Jamie refers to her as "Crystal Hairy" and makes jokes about her underarm fuzz. (Cera's character, it's worth noting, is not supposed to appeal to us.) The sight has also led to speculation over whether this decision held a hidden message and whether Ms. Hoffmann was wearing a merkin, a discussion that she finds a little ridiculous.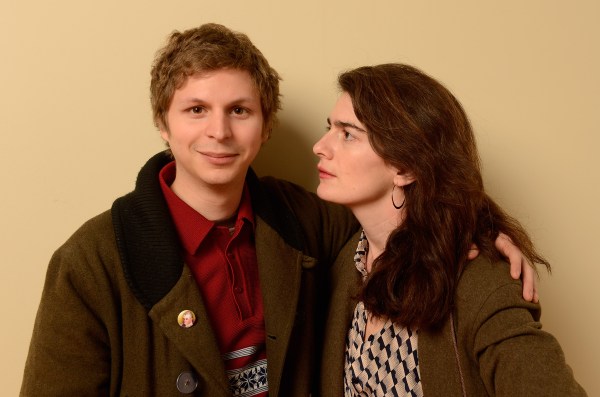 "People are obsessed with the fact that I have body hair. They think it's this huge statement that we're making. That's just me naked. I found out about the movie ten days before I got on a plane. I didn't have time to grow my armpit hair and bush. We weren't making a statement. I happen to just look like that. It wasn't something about Crystal Fairy."
But body hair meant that she didn't look like every other actress onscreen. Aren't you supposed to diet and wax everything below the eyebrows before you strip down?
Ms. Hoffmann continues: "It's a further comment on the culture at large that people assume we were making a statement. It could never be that I just happen to look like that. People are obsessed with actresses being hairless, fatless Barbie dolls. They can't imagine that people would want to be anything other than that. When they are, it's looked at as almost a political statement. Look at Lena Dunham. She is a gorgeous woman and people can't stop talking about how brave she is to show herself naked, which I find totally condescending and ridiculous. If Angelina Jolie was naked onscreen no one would say she was brave. The implication is that Lena's brave because she doesn't look the way she's supposed to look. I think that's a shame."
Fans will likely be seeing a lot more of Ms. Hoffmann in the near future. She'll be appearing in a three-episode arc on Girls and is working on a movie version of the television show Veronica Mars. Ms. Hoffman notes that the latter project is funded almost entirely by Kickstarter. "Filmmaking is becoming a democratic medium," she says. "If you can hold a camera up to your eye you can make a movie. It's blown itself wide open and it's thrilling. The studio system is becoming less and less relevant. "
And, if you're in New York, you might spot her wandering around her new neighborhood, Fort Greene.
Fans of Now and Then might be inclined to think of her character's final line in the movie: "It's only when you embrace your past that you truly move forward. Maybe Thomas Wolfe never got to go home again, but I found my way there."
But, while she may have come back to her childhood profession—and is even living in New York again—Ms. Hoffmann doesn't feel as optimistic about the possibility of return as Samantha. How can she? The Hotel Chelsea was sold in 2011 to the developer Joseph Chetrit, who is attempting to renovate the artists' haven as an upscale hotel, much to some of the tenants' displeasure. And as anyone who has ever heard people mourn the "old New York" knows, the city has changed dramatically in the past 30 years.
Ms. Hoffman says, "Downtown Manhattan just seems like a giant shopping mall to me now. Harlem has maintained its character, but downtown was a very conducive place to live as an artist in the 80's. Now it's exhausting just to get through the day. I think it's sadly not a place for artists anymore, though it's still a place artists are drawn to."
She has kind words for Los Angeles, where she and her mother moved in 1993. "It seems like a place where people have space that is not just geographic, but actual life space that gives people access to a kind of creative space. It gives their psyche an ability to get lost. I feel like Los Angeles is a good place to be an artist." New York is more difficult. She augments her low pay (around $100 a day) on independent films with television work but acknowledges, "It takes every ounce of energy to pay the rent. It's getting harder and harder to justify the rent in New York. For a long time, you were paying through the nose to live in a box, but you had the city. I still feel that way, but the more Starbucks and Barnes & Nobles eat up the retail in Manhattan, the harder it is to justify the incredible sacrifice you're making."
Maybe you can never quite make your way home. Or, at least not to the same place you had in your youth. But the journey forward may prove every bit as exciting as the past.