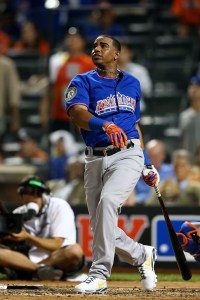 The home run—it's the most exciting moment in sports, as the ball sails over the fence, the crowd erupts and the batter stares, briefly admiring his handiwork, before taking professional athletics' only built-in victory lap.
That's where my website, Tater Trot Tracker, comes in. Started in 2010, the Tracker catalogs the amount of time each player takes to circle the bases, putting a stopwatch to every single home run. (We have tracked more than 90 hours of trots to date.) Earlier this week, Major League Baseball threw its annual celebration of the long ball, as the game's heaviest hitters descended on Citi Field for this year's Home Run Derby—so what better time to take a look at our findings?
Let's start with some superlative trots by an unlikely hero: recently demoted Oakland A's farmhand Adam Rosales is a journeyman utility player who can't seem to stay healthy. But when it comes to the home-run trot, Mr. Rosales is the king of quick, with the three fastest of the 2013 season. His typical trots are faster than some inside-the-park home runs! With an average time of 16.5 seconds, Mr. Rosales is a full second faster than his next closest competitor, Yankees catcher Francisco Cervelli (both men put this year's league average of 21.8 seconds to shame).
And then you have your slow trotters. There are the players of the built-for-comfort-not-for-speed body type, like Kansas City Royals first baseman Billy Butler, or those of the I'll-run-when-I-feel-like-it attitude, like Los Angeles Dodgers shortstop Hanley Ramirez. These are the players who will never sniff the league average. The undeniable laggard leader is Boston's David Ortiz. As of last Friday, there had been 28 home runs timed at 27 seconds or longer this year. The Red Sox designated hitter was responsible for 17 of them.
Surprisingly, Mr. Ortiz is not responsible for the single slowest trot of the year. That distinction goes to Colorado Rockies first baseman Todd Helton, who managed to turn a pop-fly homer into a 31.5-second spectacle. It was only the seventh home run out of more than 15,000 we have tracked to break the half-minute mark, and it is tied for the slowest non-injury-related trot since 2010.
As for 2013's most exciting trot, the crown goes to San Francisco Giants outfielder Angel Pagan. Inside-the-park home runs are automatically thrilling. Ditto for walk-off homers. So naturally, a walk-off inside-the-park home run would be a double dose of drama, and Mr. Pagan managed the feat back in May. What made his game-winner so impressive is that he needed every millisecond of his 14.7-second trot to beat the throw and score the winning run. The smallest delay would have turned his impressive feat into just another out at the plate.
It's that kind of variety that makes home run trots such a fascinating piece of the game, and ballplayers all seem to treat their moment in the spotlight differently. Sports psychologist Dr. Jay P. Granat, founder of StayInTheZone.com, believes the way players run out their long balls "mirrors the way they play the game. If they're high energy, they're going to be exuberant. If they're level players, it's just part of the game." Much like a batting stance, every home-run trot is the product of an individual personality.
Monday night's Derby champ, A's outfielder Yoenis Cespedes, for example, averages 22.6 seconds per round trip. "[He] gives the impression of being rather businesslike and humble in his approach to the game," Dr. Granat said of the outfielder's trot. "He is a man doing what he has trained to do." As for Mr. Cespedes's winning turn at the Derby, if he had to run out all 32 homers, it would have taken him more than 12 minutes to circle the bases. Thankfully, that wasn't the case. There were enough commercial breaks as it was.