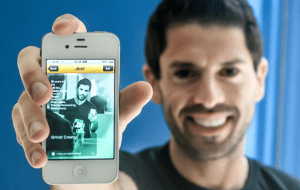 It turns out one can use Grindr to do other things aside from making regrettable decisions. In an interview with PC Mag, Joel Simkhai said he created the mobile meat/meet market app four years ago because it was difficult cruising guys in the grocery store because he couldn't tell who was gay. Guess tight tank tops can be deceiving. 
The former New Yorker said he'd play eye games and then chat up guys, but still couldn't figure out their sexuality. (He's not a believer in gaydar.) "We wanted something that would allow us to find out who else is gay," he conceded.
He explains why Grindr was created:
So it's just meant to be quite simple; just a very basic tool that allows you to find other gay guys and communicate with them and then hopefully meet them. And even the app itself is—we designed it to be very basic, very straight-forward, something that can be used internationally as well. And that's what it's all about.
Grindr: Making it easier to spot a gay guy since short shorts are no longer a signal since 2009.