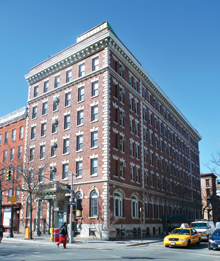 This spring, rumor had it that hedge fund honcho Steve Cohen was buying an apartment at the Abingdon in the West Village. Well, it wasn't just a rumor: this afternoon the deed for the building's "West Mansion" hit property records.
Mr. Cohen bought the nursing home-turned-luxury condo through a shell corp entitled Hudson Heights Holdings, Inc., but he wasn't very crafty about shielding his identity, as the LLC is domiciled at his 35,000-square-foot Greenwich (Connecticut, not Village) home at 30 Crown Lane.
Mr. Cohen's new triplex maisonette at 607 Hudson Street, which was a sponsor unit by developer Flank, changed hands for just over $23.4 million, which was less than the $25 million asking price—even when he's dropping eight digits on an apartment, Mr. Cohen, it seems, is still looking for a bargain.
According to the Post, the unit—which clocks in at a downright cozy 9,600 square feet—is likely to be used as a temporary home while Mr. Cohen renovates his $38.8 million apartment at 145 Perry Street. And of course he's still got that $115 million One Beacon Court penthouse on the market uptown (which is not even the most expensive item he owns—that honor goes to his $150 million Picasso).
Reached on his cellphone at the beach, Flank's listing broker, Tim Crowley played coy. When asked whether Mr. Cohen was the buyer, he responded, rather unconvincingly, "I don't know who that is." (Deborah Grubman at Corcoran, who was Mr. Cohen's broker, did not return our call.)