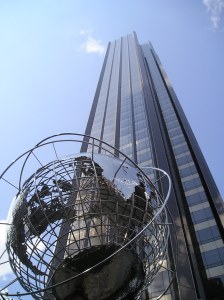 Johnson & Johnson heiress Libet Johnson loved the Trump International Hotel and Tower—so much so that it's nearly impossible to keep track of them all. So difficult, in fact, that we lost count.
Back in 2007, we wrote that "Public records and published reports suggest that 51-B"—a penthouse at 1 Central Park West that she parted with for $18.5 million—"was her last apartment" at the Trump Tower. But it looks like we were wrong: just today another deed for a penthouse in the shiny black tower hit property records, this time for a penthouse two floors down. Ms. Johnson's haul this time around? $21.85 million, or nearly $4,900 per square foot for the 4,489-square-foot (we think, at least—everything about the unit is a bit mysterious) pad.
What's odd about the property is that there seems to be no record of her ever having bought it in the first place. Property records yield no previous activity for penthouse 48A before its sale was filed with the city today. The new owner is the inscrutably-titled Unit 48A LLC (and a nearly $20 million mortgage by Greenstreet Financial L.P.). Streeteasy, mysteriously, shows that the unit was sold in 1997, the year the building was reskinned by Philip Johnson and Costas Kondylis, to a one "Peninsula Realty" for $20.1 million, but the link to the deed yields an error message.
Does the apartment even exist? Who was the listing broker? How much did Ms. Johnson pay for it? Who did she sell it to? All questions that will, unfortunately, remain a mystery. Perhaps even to Ms. Johnson herself—when you trade property like Monopoly pieces (a $48 million Vanderbilt Mansion here, a $10 million Perry Street townhouse there), never with the intention (and rarely with the result) of making money, it may be easy to forget that lesser penthouse you own in one of Central Park's aging skyscrapers.