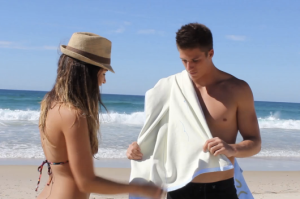 An Australian innovator has created a beach towel that prevents sand from sticking to its underside, thanks to a waterproof layer and a vinyl bottom.
Baz Brown became frustrated after tracking sand all over the place following each and every beach trip. He developed the Sandusa and is trying to raise $50,000 for the project on IndieGoGo. He's at just over $3,000 right now.
For a detailed explanation at how the Sandusa works, watch the promo video in which two young Australian hotties engage in a sandy-beach-towel mating ritual. He shakes his towel all over her, she gets pissed, he acquires the new and improved Sandusa and she beckons him to her so that she may stroke the towel while it lies dangerously close to his giant pectoral muscle.
Should the Indiegogo get funded, you may earn your very own Sandusa, perfect for repelling sand and attracting a mate.
[vimeo http://www.vimeo.com/68101924 w=400&h=300]