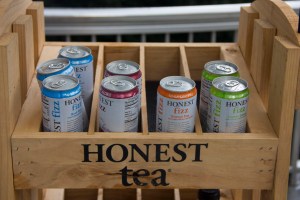 We at The Observer like to think of ourselves as a little bit rebellious.
So this afternoon, when we followed up on a hot tip to get the skinny on some cold tea, we went all out.
Honest Tea, an organic bottled tea brand, set up unmanned stands of their products at the base of the Trump International Hotel next to their famous steel globe. You read that correctly, no one from the company was standing near the Honest Ade or Honest Fizz in the middle of Columbus Circle. A sole sign that read "$1 Each. Honor System," stood behind a clear bin filled with dollar bills between the tea stands.
Confused passers-by stared blankly at the honor system signs, obviously embroiled in a bitter battle between their inner angels and demons. The angels seemed to win out as the majority of peopled had no problem inserting a dollar and going about their day.
Naturally, seeing everyone pay for free tea made us want to steal it all (and see if anyone was actually watching the stand).
The perfect time to strike fell when the line of goody two-shoes ended. The Observer made a beeline for the nearest tea stand (it was basically asking us to roll it away) and scurried off, desperately hoping someone would stop us.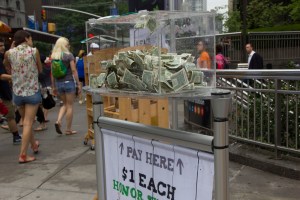 After a while, we realized Honest Tea had kept its word. It was no fun stealing from someone who couldn't catch us in the act. We made a U-turn and returned the tea stand back to its original resting stop.
The Honest Tea must have gotten to us, man. It's like a conscience in a bottle.
But we weren't the only bad eggs that stopped by the Honest Tea stand this afternoon. A couple of people quickly jammed a bottle or two into their bags before walking away.
The power of Honest Tea can't break through every cold heart here in New York City.
That shirt says thief all over it.
Honest Ade bottles
Free tea is a lot sweeter than earned tea.
So many flavors!
The goody two-shoes of New York actually paying for their tea.
The Observer's Hugh Bassett whisks away with a Honest Tea stand.
Totally bummed, The Observer's Hugh Bassett wheels back the stolen tea to its original resting spot.
Honest Fizz cans (Photo by Hugh Bassett).
There is always money in the tea stand! (Photo by Kelly Gifford)
Oh… so did Hugh technically pay for the almost stolen tea stand?
All photos by Kelly Gifford and Hugh Bassett.