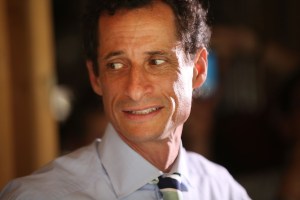 We know, another editorial on former Congressman/current New York mayoral candidate Anthony Weiner and his cybersexting "addiction." If you feel a little gross reading the umpteenth article dissecting the politician's dong shots…well, you should. You think the media brought down Anthony Weiner when they revealed the photos of his salami? Or that we even want to be covering Carlos Danger as a 24 news cycle?
As salacious as it is, we're all sick of trying to place those however many women who have stepped forward claiming to have received sexual photos or messages from Weiner in chronological order, as if it matters if he messaged them before his humiliating resignation from Congress, during his "reformed" family man period (as memorialized by that People Magazine profile) or throughout, and as recently as last summer. (Which is not to say that there aren't more waiting in the wings, currently.)
It stopped being sexy news when we ran out of puns. And now, disturbingly, we're getting the distinct impression that this is what Weiner wanted all along: to show the world his dick pics.

Weiner may have just used the media as pawns in the most brilliant example of viral marketing-cum-sexual long-con of the 21st century. Look at the facts: Weiner may have wanted to be mayor (though not as much as New Yorkers wanted him to be, according to pre-sext polls), but if what you want and what you need are to very different things? He needed every young, Internet-savvy nubile woman to look at his penis, whether it be clothed in briefs, or out and proud, posed in a flattering composition that caused a friend to recently express almost admiration, "It's obvious he's learned a lot about depth of field, shadow and forced perspective since his first round," we all agreed. "Because now, it's like…huge."
Thanks to the distribution of his below-the-belt "selfies" leaked to the press and picked up by all those intrepid Zoe Barnes out there…we've successfully helped Anthony Weiner flash the entire national media. And what's more: it was consensual. We read the headline that warned explicit content, and you went ahead and clicked anyway.
While liberals debated his "judgement" and conservatives rallied against his "morality," we did so against the backdrop of Anthony Weiner's weiner, a stunning feat considering that he's never (to our knowledge) committed an act of carnal infidelity.
For someone who likes exposing himself, it was an ultimate coup, but one that couldn't have happened unless he put himself back in the public eye…like say, throwing in his hat late in the game for New York's mayoral candidacy. And then immediately killing it in the polls. It would be an irresistible call for the women out there looking for their 15 minutes and possible payday. (And out of all the ladies to enter into a discretionary virtual relationship with, post-scandal, what better choice than the passionately political liberal 'feminist' Sydney Leathers; the type of woman who would hoard every record of their conversations even before she felt "betrayed" by his admittedly consistent behavior, to better leverage them against for her Ashley Dupre moment? Had Weiner stayed below radar and out of the race, Ms. Leathers' might not have her exclusive swimsuit photo spread in The New York Post, and then where would she be?)
"If people want to reveal information they are welcome to do it," Mr. Weiner said recently, and it's hard not to read that as a dare. And how are we supposed to read his comments to Politicker: "I thought they were going to come out towards the end of the campaign. And some of them have."
Who gives a teaser trailer on his yet-to-be-discovered sextual indiscretions? One who knew that the stories would come out eventually, was practically counting on it, and by his defiance to drop out of the race (compared to say, how quickly he resigned from Congress), is looking forward to America taking another long, hard look at his cajones.