How you go about finding housing in a city desperate for it depends on your means. Howcast co-founder Jason Liebman approached the problem by making a small fortune online, then picking up a Soho loft for a cool $6.5 million, according to city records.
The young tech millionaire (or at least, he was before he bought the apartment—he had to pay more than $1.5 million up front, with the rest covered by a mortgage) made his money with a dot-com-esque instructional video website. If you've scoured the web for bite-sized videos on how to understand schizophrenia, or how to gamble at casinos, or how to play African drums, you may have sent a few pennies Mr. Liebman's way.
And with those hundreds of millions of pennies he bought one hundred and twenty feet of pure Soho loft space from John O'Hagan of Chevy Chase, Maryland.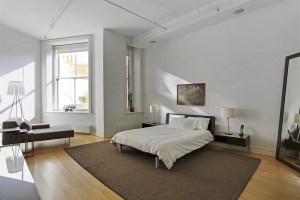 Unfortunately, it's 120 feet on the wrong side of the building, though the windowless stretch is mitigated by the attractive brick arched wall—if you have to have 120 windowless feet of wall, there are a lot worse ways to do it.
But aside from its less-than-ideal window placement (the two bedrooms appear to have interior exposures), the fifth-floor loft at 56 Crosby Street has a lot to offer. Each bedroom is rather large and angular (no cookie-cutter square rooms in this former manufacturing space), and features its own full bathroom, along with a half-bath off of the main living space.
The building itself, despite its prime Soho location, lacks some of the hallmarks of the neighborhood—both for better and for worse. Though the six-story structure is half a block away from Broadway, Crosby Street, with its cobblestones and more liveable design-based retailers, lacks the feel of a low-rise Times Square. Then again, the building is also brick rather than cast iron. All in all, though, a trade-off that we'd gladly accept.
"There was a lot of interest in the apartment," said Corcoran broker Douglas Albert, who shared the listing with Brian Rice. "It was also on the market for rent, so there were a whole bunch of different scenarios."
Eventually, though, the seller decided to let the unit go and got exactly what he wanted for it. (We expect the Howcast of selling a luxury apartment for ask would involve selling a property in a hot neighborhood during a hot market.)