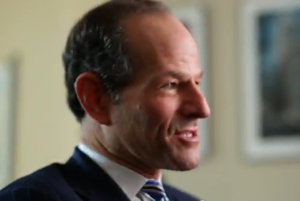 Former Gov. Eliot Spitzer screwed up with his prostitution scandal, and he's taking to the airwaves to admit it.
"Look, I failed," the now-comptroller candidate tells the camera in his latest ad. "Big time."
The professional-looking, 1-minute spot features Mr. Spitzer talking directly to the camera while indirectly taking on his political demons.
"I hurt a lot of people," he adds. "When you dig yourself a hole you can either lie in it for the rest of your life, or do something positive."
The ad–his second since Friday–quickly pivots to the more positive parts of Mr. Spitzer's record, touting his tough actions against Wall Street as attorney general, for instance.
"Everyone, no matter who you are, deserves a fair shot," he concludes. "I'm asking voters to give the same to me."
The Spitzer campaign did not say how much money it will put behind the ad, but said it would "go into rotation in the coming days."
Mr. Spitzer is facing off against Manhattan Borough President Scott Stringer in the Democratic primary. Mr. Stringer has criticized the former governor, who is independently wealthy, for using his personal wealth to fund his campaign.
For their part, Mr. Stringer's campaign panned the new ad.
"Eliot Spitzer's real failure was a governorship that left Albany more broken than when he arrived," Stringer spokeswoman Audrey Gelman said in a statement. "It's clearer and clearer that for Eliot Spitzer, this campaign is not about the needs and struggles of New York's middle class – it's all about Eliot Spitzer."
Watch below:
[youtube=http://www.youtube.com/watch?v=0TYfjg0dILo&w=560&h=315]
Update (8:10 p.m.): Response from the Stringer campaign added.