Shelley O'Keefe finished arranging the furniture, installing the chandeliers and hanging the artwork in apartment 2A, a three-bedroom floor-through at the Chelsea condo Citizen on a Sunday. By Tuesday, the Corcoran broker was making arrangements to have it all removed. A buyer had signed a contract on the apartment—a victory, if something of a pyrrhic one—the dust never even had a chance to settle on the eye-catching wall hangings or handsome carpets before they were hauled to a floor-through on the 12th floor.
The whole point of staging in a new development is to sell apartments. Just not, preferably, the apartment that's been painstakingly outfitted with furniture, rugs, lighting fixtures, window treatments, wall hangings and ersatz ephemera. In new developments, staged apartments are not supposed to sell themselves, but rather, the unstaged, empty apartments all around them. Invariably, though, buyers want the staged apartments. Even though in most cases, the apartment will be delivered empty, virtually indistinguishable from all the other apartments in that line.
"Some buyers can envision things and some buyers need help," said Ms. O'Keefe. "But all buyers want to leave an apartment feeling really good. They ask themselves what apartment they felt the best in. And that's often the one that's already set up as a living space."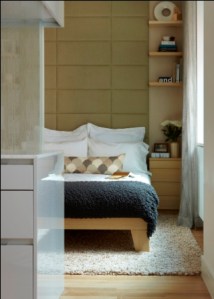 New York real estate can often seem like an industry defined by cold-hearted and clear-headed business transactions—owners rave about loving their apartments, then list them the next day. Buyers sign contracts on unbuilt condos with nothing more than an offering plan. But the way that model units move is proof that for all their posturing, buyers are considering much more than investment potential when they go house hunting.
Despite the demand for new development, many buyers don't want a blank slate so much as a well-decorated one. An apartment that feels like it's being by a more sophisticated, stylish version of themselves—one without mismatched dining room chairs or a fusty hand-me-down bedroom set, one that's leading a more exciting, interesting life.
But while some of the appeal of a staged apartment is certainly aspirational, according to Classic Marketing broker Rae Gilson, a lot of it is more basic.
"When some of the equipment has been put in place, it's easier to let your imagination move through the space," said Ms. Gilson. "We do always show the models first and then we'll show them other things that meet their criteria, but many of our buyers have said, 'Well, I think I like the model.' I think people's imaginations need a place to rest, even if that is just looking at the furniture."
All of the model units in the building that Ms. Gilson is currently marketing—530 Park—have been moved at least once—a hassle, she agreed, "though we make it seem like it isn't at all."
But appealing to aspirational and inspiration-seeking buyers isn't the only reason to splurge on high-end on staging furniture—one broker told us that there's another good reason to decorate model apartments with fancy furnishing—it holds up much better during numerous moves.
Indeed, as much of a pain as it is to cart furnishings around a building, few developers are enthusiastic about selling off their model units fully furnished, according to Corcoran Sunshine senior marketing director Beth Fisher. Those who do will often charge a premium for the privilege, encouraging buyers to take the empty apartment down the hall.
But even when buyers can be persuaded to take empty apartments rather than the staged ones, they often gravitate toward units in the same line as the model.
"At the Aldyn, the lines of apartments that sold were connected to the apartments that had been modeled. As we sold out of one line, we'd move the model into the other line," Ms. Fisher said.
The costs of staging an apartment can range from something like $35,000 for a one-bedroom, according to Ms. Fisher, to over a million for the largest, grandest residences. And while a less expensive unit might be decked out with serviceable, but hardly exciting items from West Elm, really high-end apartments often include unique pieces, custom window treatments, custom millwork and unusual finishes. Some sponsors lavish so much care on the model units that they refuse to sell them until the very end.
Not that people don't continue to try. "It's amazing how much they want the model," Ms. Fisher noted. "It's the same as when you go to a department store. People want to buy the thing that's on display."