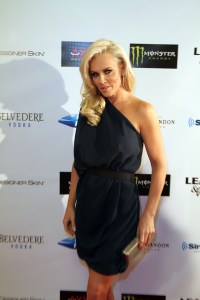 It's official. Jenny McCarthy will be a new co-host on The View, Barbara Walters long-running daytime discussion forum on ABC, Ms. Walters announced on-air this morning.
The news did not come as a surprise–Ms. McCarthy, who had been a frequent guest on the program, was seen as the likely name to fill one of the spots left by comedian Joy Behar and conservative Elisabeth Hasselbeck's departures. 
"Jenny brings us intelligence as well as warmth and humor," Ms. Walters said in a statement. "She can be serious and outrageous. She has connected with our audience and offers a fresh point of view."
Ms. McCarthy certainly has a "fresh point of view." The actress, who rose to fame as the host of the the 1990's MTV show Singled Out, has been a vocal anti-vaccination crusader.
"I'm beyond thrilled … I look forward to helping make hot topics a little bit hotter, and showing my mom that my interrupting skills have finally paid off," said McCarthy in a statement.
Ms. McCarthy will start in September, when the show enters its' 17th season.