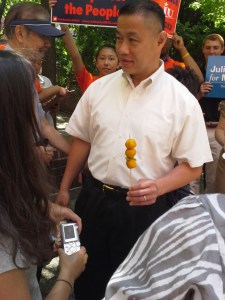 The only candidate for mayor with events on his public schedule today, Comptroller John Liu raced into Chinatown this morning before preparing to head to three additional stops in Brooklyn and another in the Bronx.
But Mr. Liu brushed off suggestions that he was outworking his rivals.
"I don't know anything about work ethic, this isn't work!" he declared, beaming below the massive Confucius Plaza Apartments in Chinatown. "I'm having fish ball shish kabob on a beautiful day at Confucius Plaza with lots of good people."
(Mr. Liu maintains a "see-food" diet on the campaign trail: "I see food, I eat it.")
While Mr. Liu refused to pat himself on the back, the barbecue underscored the Liu campaign's strategy as petitioning season winds down: Show up virtually everywhere and keep making good impressions.
Confucius Plaza itself is an important stumping ground for any Democratic candidate; one campaign source estimated there could be close to 1,000 votes housed in the soaring 44-story towers. But Chinatown is particularly important for Mr. Liu, who hopes to hopes to notch high margins in the city's Asian-American community come Election Day as he runs to become the city's first Asian-American mayor.
Mr. Liu, once considered a rising star in city politics, has seen his prospects dimmed by a federal campaign finance investigation that resulted in guilty verdicts for his former campaign treasurer and a fund-raiser earlier this year.  But if today's event was any indication, the trial seems to hold little weight in his supporters' minds.
Michelle Wu, a healthcare worker and Brooklyn native, was particularly supportive.
"We support you! We support you!" she cried.
Urged on by his mother to hug Mr. Liu, her 4-year-old son ended up in Mr. Liu's arms, where the Democratic candidate for mayor tickled him and claimed to be tickled back.
"He's the one for our Chinese community. We're proud of him so we have to support him," Ms. Wu told Politicker. "He's been doing a good job these past few years. Every community, especially his Asian base, is very excited … We're happy to have somebody to say something for us."
Mr. Liu, in a sunny mood on a day when temperatures surged beyond 90 degrees, was in a rush. Greeting elderly men and women on park benches and coaching his volunteers, Mr. Liu nevertheless needed to be in the Homecrest neighborhood of Brooklyn in an hour. Walking with Manhattan borough president candidate Julie Menin, Mr. Liu planned to leave without addressing the entire crowd in the plaza. Ms. Menin, meanwhile, told Politicker she was planning on campaigning there all afternoon.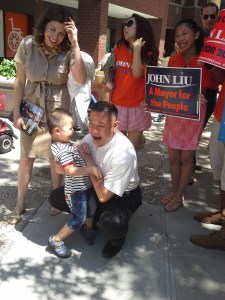 It was only at the insistence of Justin Yu, chairman of the Chinese Chamber of Commerce, that Mr. Liu grabbed a microphone, thanking residents for signing his petitions and keeping Chinatown vibrant.
Before Mr. Liu power-walked out of the plaza to a hulking black Chevy Suburban, he did have time to chat with Politicker about his wardrobe, explaining that his white short-sleeved shirt, sans suit jacket, had little to do with the scorching weather.
"It's not about the weather," he said. "If people aren't wearing suits, why should I be wearing a suit? They don't appreciate people showing up in suits."
Mr. Liu asked if Politicker saw any suits in the plaza. In fact, there was a man in a dark blue suit standing not far behind him.
"Well, he doesn't count, he's my detail," Mr. Liu said, insisting that the guard's presence was "beyond his control." Laughing, he added, "He's got to do that, he's got to hide the gun, that's all. He doesn't count."
Addressing the more serious topic of the increasingly-negative attacks exchanged between some of his electoral rivals, Mr. Liu replied with a question: "Is there anything happening that was not predictable?"
"There's a time for everything," he said serenely when asked if he'd soon be joining the fray. "No one is making any inroads into my base."