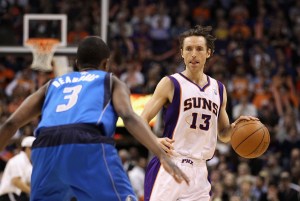 Watching loving couples interact on social media is annoying. Watching exes interact can be even worse, especially when it's not even entertaining.
One judge in Arizona apparently knows that, and has barred NBA player Steve Nash and his ex-wife, Alejandra Amarilla, from trashing each other via Twitter, according to The Globe and Mail.
If the order sounds like a violation of free speech, it's because it just might be — it "goes against a number of interpretations of the First Amendment," The Daily Dot points out. But Mr. Nash and Ms. Amarilla agreed to have their speech limited under a joint custody agreement for their kids, which apparently means the court is allowed to order them to make their Twitter personae less annoying.
In the meantime, we mortals continue to grapple with the familiar problem — deal with an ex's snarky subtweets, or block them knowing that you'll be unable to stalk their other tweets ever again?