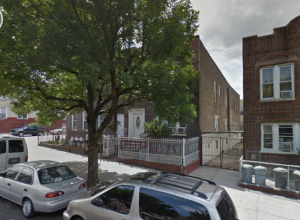 Though Joel Loutan has earned a nod in the New York Public Advocate Office's Worst Landlords Watchlist, he has yet to grab a coveted spot on the site's "50 Worst Landlords" list. After today, however, it's likely he will.
Bronx Housing Court recently issued an arrest warrant for Mr. Loutan, a landlord who allowed his building to slip into some of the most "deplorable" conditions seen in the city's housing units. A collapsed roof, rotten wooden beams, leaking walls and defective boilers rank among the property's most prominent features, Crain's reported.
The building at 1514 East 172nd Street—though just four units large—has racked up over 30 open housing code violations. Though the property was placed in HPD's Alternative Enforcement Program (AEP), which compels owners by law to make the necessary reparations, he has repeatedly defied the city's Orders to Correct. Among those orders included replacement of the roof, re-pointing the exterior walls, re-wiring the entire building, and replacing the heating plant.
But after Mr. Loutan failed to appear in court on numerous occasions to address the charges (his attorney couldn't seem to find the time either), Bronx County Housing Court Judge Jerald Klein demanded his arrest.
According to Eric Bederman of HPD, Mr. Loutan's case is only the fifth of its kind in nearly eight years.
"It doesn't usually get to the point where a judge has to issue an arrest warrant," he told The Observer. "Even if a landlord is particularly recalcitrant and won't pay for the repairs, AEP can step in and bill him later. But this unit was placed in the program back in 2009, and Mr. Loutan still hasn't shown up in court."
But while Mr. Bederman affirms that most landlord cases are settled long before an arrest is needed, Jason Chan, a tenant organizer for the Chinatown Tenants Union, says the situation looks far different on the ground.
"The small number of arrests doesn't tell the whole story," Mr. Chan said. "We see landlords constantly refusing to make the necessary repairs, but aren't called out because they simply evict their tenants, make the repairs, and then take in new tenants at a higher rent rate.
"It's hard to hold landlords accountable, and we don't see New York protecting its tenants like it should," he continued. "It's helpful to see this arrest warrant issued, but it's pretty disturbing that it has to reach this point before the government will even take notice."
HPD Commissioner Matthew Wambua, however, remains hopeful that the case will serve as a needed wake-up call for other neglectful landlords throughout the city.
"Real estate may be a business, but it is one that has a profound impact on the families who live in the buildings as well as the stability of the surrounding neighborhood,"  he said. "The City views ownership as an incredibly important responsibility – owners and landlords should as well."