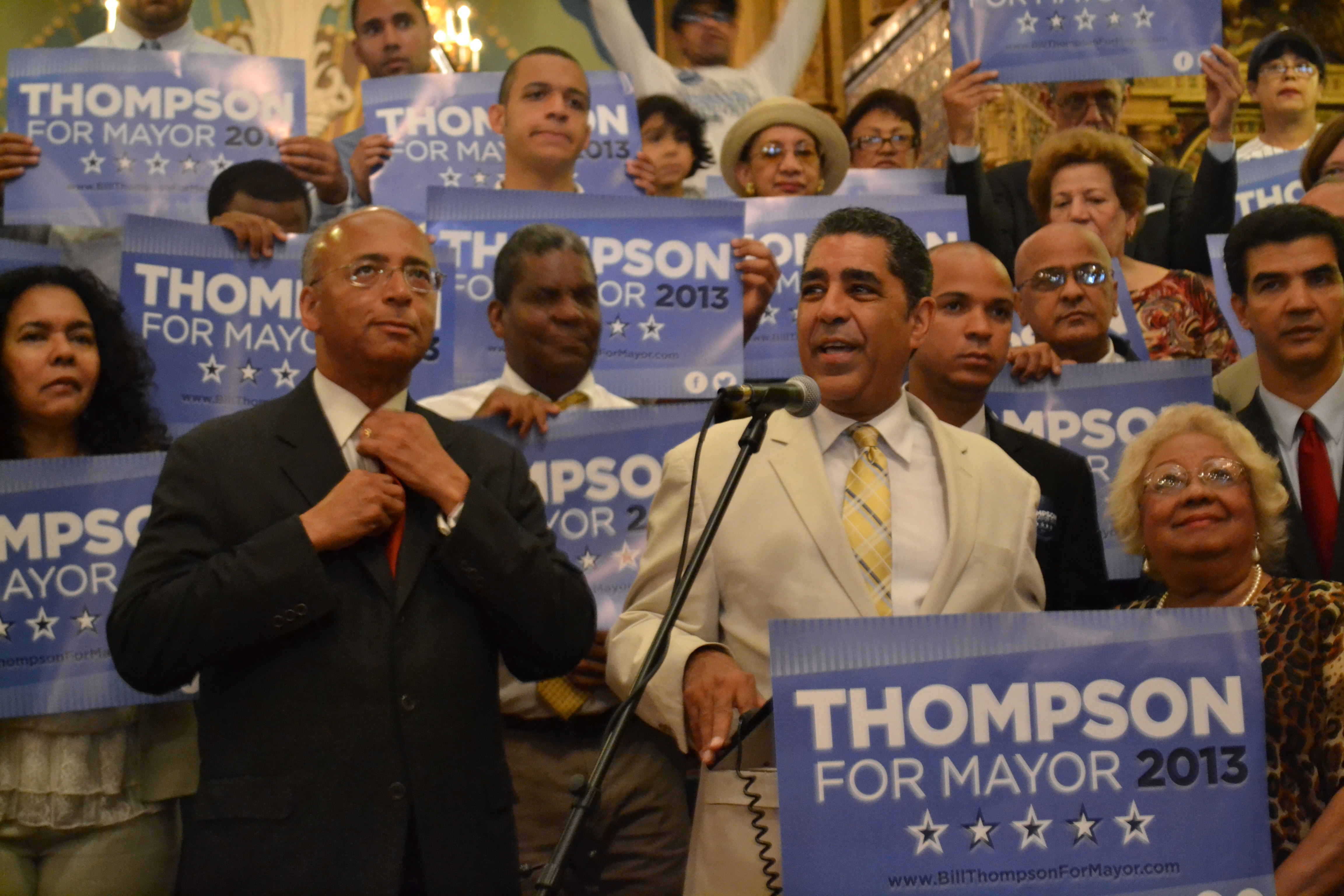 Adriano Espaillat could not go a single day without a text message, email or phone call from a mayoral campaign operative eager to tout his or her candidate's momentum. His last name doesn't carry the weight of a Clinton or Cuomo, but the Manhattan state senator was like Helen of Troy to the many political strategists and surrogates clashing in the most competitive Democratic mayoral primary in more than a decade.
"At the beginning, it felt special. Now it's very taxing," Mr. Espaillat told Politicker of the lobbying efforts in the days before making up his mind. "I get phone calls, text messages, emails. I get surrogates calling constantly, union leaders, activists and even friends I know, personal friends involved in the campaigns."
"They call every day. Every single day," he marveled.
In an era of fractured media landscapes and diverted attention spans, it can be harder than ever for a single endorsement to make or break a political campaign. But in the race for Gracie Mansion, individual nods can occasionally make a difference, big or small, from Williamsburg rebbes to Sex and the City stars. And this year, the first incumbent-free mayoral contest in more than a decade, will also mark a coming-out party of sorts for a new class of influencers looking to  make their marks.
They include Mr. Espaillat, who, on Monday, endorsed former city Comptroller Bill Thompson for mayor, following in the footsteps of another of the city's emerging political power brokers: Bronx Borough President Ruben Díaz. Rounding out the highly-courted newcomer trio, Congressman Hakeem Jeffries is still pondering his choice.
At 58, Mr. Espaillat is not young, but his clout in northern Manhattan is growing, exemplified best by his race against veteran Congressman Charlie Rangel last year. Although many observers predicted Mr. Rangel, the godfather of uptown politics, would decisively swat back the challenge, Mr. Espaillat came within 1,000 votes of abruptly ending his storied legacy. The Democrats running for mayor took notice.
With his forceful personality, his fervent appeals to Dominican-American nationalism and close alliances with other elected officials, including Councilman Ydanis Rodríguez and newly-elected Assemblywoman Gabriela Rosa, Mr. Espaillat has built a cohesive political machine that is eroding the traditional black power base above 96th Street. That he is seen as being largely responsible for propelling Ms. Rosa to the Assembly did not elude Public Advocate Bill de Blasio, Comptroller John Liu or Mr. Thompson; all three mayoral hopefuls appeared at her victory party. "He has a legitimate political machine—none of these people who say they have machines actually have machines; they're snake oil salesmen," said one Democratic operative watching the endorsement process. "Adriano can bring real warm-bodied individuals to the voting booths. He can really do that."
Like most pols, Mr. Espaillat also has his share of detractors. Regarded by political adversaries as a strongman of northern Manhattan, Mr. Espaillat is criticized for operating in the mold of bullheaded machine politicians. And, although he has never been implicated in a crime, two of his top former associates have: Former Councilman Miguel Martinez is serving in prison for stealing more than $100,000 in taxpayer dollars and former Assemblyman Nelson Castro was indicted for perjury and spent his entire Albany tenure as a wire-wearing informant, culminating in his resignation last April.
But that has not tempered his confidence. "I think they look at the work we did last year in the congressional race and they saw the numbers. They feel that as Dominican-Americans we have a citywide constituency," Mr. Espaillat said. "We'll do anything that needs to be done to get a candidate elected … anything that's necessary."
Also seen as moving Latino votes is the Bronx's Mr. Díaz. Though lacking the bombastic yet endearing clownishness of Brooklyn Borough President Marty Markowitz or the wonky cred of Manhattan's Scott Stringer, Mr. Díaz may be the borough president with the highest political ceiling among the five relatively powerless borough leaders. Easily elected in 2009, Mr. Díaz, a charismatic 40-year-old with the build of an ex-athlete, first won a seat in the State Legislature before his 24th birthday and helped depose a powerful Democratic Party boss a decade later. Mr. Díaz, through the benefits of attentive Spanish-language media, is recognizable to Latinos beyond the Bronx. It's not easy to estimate how many votes Mr. Díaz can deliver for Mr. Thompson–after all, no endorsement occurs in a vacuum separate from other factors–but his personal appeal and reach could be worth several thousand votes for the Thompson camp.
"Rubén Díaz is wildly popular with African-Americans, Latinos and Puerto Ricans in the Bronx and Manhattan," said Michael Benjamin, a former Bronx assemblyman who served with Mr. Díaz. "People have seen him grow up, older folks in their fifties, they see him as a son who's been able to rise. Then you have his generation, his peers. He speaks their language."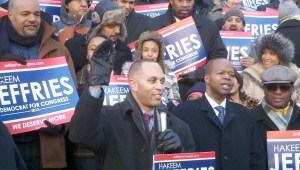 As the 83 year-old Mr. Rangel serves his final terms in Congress, the face of black political power in the city is rapidly shifting from Harlem to Brooklyn, where newly-elected Congressman Jeffries resides. Mr. Jeffries, after only a couple of terms in the State Assembly, muscled veteran Congressman Ed Towns into retirement and easily won the open seat in his absence last year. He trounced his outspoken opponent, Councilman Charles Barron, by almost 50 points and even triumphed in Mr. Barron's own council district.
Now presiding over a congressional district that stretches through central, eastern and southern Brooklyn, as well as portions of Queens, the 42-year-old Mr. Jeffries, though not even halfway into his first term, is one of the most sought-after endorsements in the mayoral race, worth a couple of thousand votes, according to some observers' estimates. Mr. Thompson, a native of Bedford-Stuyvesant is an obvious choice for Mr. Jeffries, but the congressman also has long-standing ties to other candidates, including Council Speaker Christine Quinn and Mr. de Blasio, a fellow Brooklynite.
Those close to Mr. Jeffries argue his knack for political strategy is unique: Mr. Jeffries's old Assembly district, for example, always had among the higher turnout rates in the borough. "During the run off primary in 2009 for comptroller and public advocate, he was very involved in figuring out polling operations, what tactically made sense," said a Brooklyn Democratic operative. "He was deep into the strategy of his own local area, helping to ensure de Blasio and Liu won there."
For the new class of political heavyweights, questions still remain. Mr. Jeffries's clout is relatively untested. Mr. Díaz can claim that he helped his congressional candidate, Mr. Rangel, pull votes from Mr. Espaillat last year. But 2013's wide-open mayoral primary is very different from a congressional race or even past mayoral races. Mr. Espaillat's operation will also be divided between Mr. Thompson and other candidates he's backing in down-ballot races, including borough president and City Council campaigns.
Regardless, the mayoral candidates certainly seem to be taking these endorsements seriously, and, outside of the actual votes they bring, support from key elected officials can help demonstrate momentum as they race towards the all-important September 10 primary.
"Communication has taken multiple forms including phone calls, emails, text messages and in-person meetings," Mr. Jeffries told Politicker, refusing to name names. "Several of the candidates are very skilled elected officials and accomplished public servants. None of them is bashful."
Correction: A previous previous of this article incorrectly stated that both Mr. Martinez and Mr. Castro were former chief of staffs to Mr. Espaillat. Only Mr. Castro was.