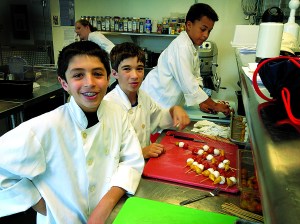 At last. A children's day camp that takes the dreams of aspiring chefs seriously.
In weeklong semesters throughout the summer, Léman Prep's culinary camp teaches preteens everything they need to know about gourmet cooking, from knife skills and safety to sauce and broth techniques.
On a recent Friday, the camp held an end-of-session lunch, welcoming parents to a three-course feast prepared by their children (with some direction from the school's executive chefs), and the Transom, smelling a free meal, thought we'd crash the party.
Proud Léman parents dressed up and sat down at "Le Petit Cochon" (an attempt to be ironic, according to le petite chef Katherine Heaton—there was in fact no pork on the menu), taking seats at small round tables in the upper school's impressive museum-esque cafeteria as their kids performed triple duty as chefs, servers and maître d's.
Waiting for the guests when they arrived was slightly tough pita bread accompanied by homemade hummus with paprika, a side of goat cheese, fresh pesto and a watermelon mint drink that chilled in mason jars.
"Only five out of the six of us chefs could agree on the chilled soup, so it just wasn't going to work," said 12-year-old Duke Tsapalas, the son of a successful neighborhood chef. He was the star of this show, and he was not nervous.
"I was never one for stage fright. I'm just excited. I'll be out in a few minutes with your appetizer," said young Master Tsapalas.
Justine Peart, however, was visibly out of her comfort zone. The shy 13-year-old was a trouper, delivering descriptions of the food with crystal clarity, though she sometimes panic-gestured repeatedly at the table with an open, extended hand when there were no words to accompany the movement.
The appetizer, chicken caprese skewers, consisted of grilled chicken, cherry tomatoes and small mozzarella balls drizzled with parsley oil, the only herb that retains its green color when boiled down.
"Was the chicken any trouble?" Mr. Tsapalas asked a young woman who had mentioned she was a vegetarian.
"Not at all," she replied, having eaten around it.
To the rest of the table, he asked, "What would you change about it?" and repeatedly pushed for more constructive feedback than "It was great."
After a 10-minute lull between courses, Mr. Tsapalas reappeared, stopped to kiss his mother on the cheek, and delivered his sincerest apologies. "Sorry for the delay. We had to cook the rest of the food," he said. (Don't you wish all waiters were so forthcoming?)
"Why does the pasta taste so lemony?" one woman chided.
"Well," interjected Ms. Peart. "We put lemon zest in it. A whole bunch of it."
"What could have been better?" Mr. Tsapalas demanded.
"I usually like some ground black pepper on my pasta," offered camp director Steve Levin.
Without missing a beat, Mr. Tsapalas replied, "I do too, but I was blinded by the fact that the pasta was so good."
Under Mr. Levin's leadership, the summer workshops are taught by the school's professionally trained culinary chefs, the same ones who prepare cafeteria meals for the K-through-12 elite during the academic year. Student activities include a trip to a chicken farm in Brooklyn, where they feed live chickens and bring back whole dead ones to cook.
Last year, one of Léman's after-school cooking students, Sam Wohabe, 10, won the New York State prize at Michelle Obama's Healthy Lunchtime Challenge for his "Fish Fueled Pepper Rocket with Kale Chips and Quinoa." Mr. Wohabe got to meet the first lady and President Obama at the awards luncheon.
The fifth grader now receives private one-on-one classes from executive chef Jenny Gensterblum.
All of the parents were satisfied customers on Friday, especially Ms. Peart's, who were shocked at their child's willingness to speak to strangers for two hours. "We've never seen her like this," they said. "She really came out of her shell."
Mr. Tsapalas's parents were also pleased, especially his mother, Heather.
"He's been cooking all week—I come home and he demands to cook. The other night, he was massaging kale," she recalled. "Another night, we came home and saw him flipping oat bran in our frying plan—he said he had to practice sautéing, and explained to us that it comes from the French word 'to jump.'"
Surprisingly, many of the students enrolled in Léman's summer programs don't attend the school—some even commute from outer boroughs.
To wrap up Friday's lunch, a dessert of shaved ice with sour syrup and an orchid flower on top—a "mojito granite"—was served, while a flat-screen TV displayed images of various culinary concoctions and the kids who cooked them. The slideshow was accompanied by Louis Armstrong's "What a Wonderful World," undoubtedly echoing the sentiment of all the working mothers present whose children continue to demand to cook dinner—and coconut-free tofu curry, no less.
The weeklong culinary camp costs $750.