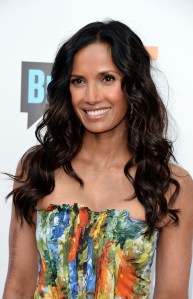 Top Chef's host Padma Lakshmi served up a protest against NYU's controversial expansion yesterday.
Nearly a dozen community groups are suing the city for allowing NYU's $6 billion, 20-year expansion project to move forward. The expansion — which will affect sites such as the La Guardia Corner Gardens and the Mercer-Houston Dog Run — will include constructing four new buildings, adding 1,900 square feet of classrooms, dorms and a gym to the university's campus.
Ms. Lakshmi took one of the last available seats in a Manhattan courtroom full of her fellow Greenwich Villagers claiming that the university's expansion blueprints will illegally eliminate vital green space in the Village, reported The Post.
"I'm just a concerned mother, Village resident. There's not a lot of places to play downtown," she told The Post.
Sites that will be affected by the expansion should be considered untouchable given their continuous public use, argued the plaintiffs' lawyer Randy Mastro yesterday. But city lawyers countered that the "strips" of land are actually streets, not parks, and belong to the Department of Transportation.
We are sure Ms. Lakshmi would like nothing better than to tell the city to "pack their knives and" get the hell out of Greenwich Village.