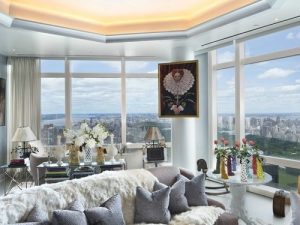 Usually, buying from last year's (or decade's, as the case may be) rack will yield a significant discount off the retail price. Not so with New York City real estate—one investor is asking $75 million, precisely twice what they paid in 2008, for the 78th-floor penthouse at the Time Warner Center.
Time Warner may be leaving its eponymous mixed-use tower (one of a small handful in the city to combine office, retail and residential), but that didn't stop Southerndown, Inc. (domiciled in a law office on Long Island's North Shore), which bought the apartment for $37.5 million just four years ago, from asking a whopping $9,063 per square foot. While it's a good ways off from the more than $13,000-a-foot price that Sandy Weill got for his 15 Central Park West penthouse, the Time Warner Center is no 15 CPW. Which is no knock on Time Warner—so far, nothing is 15 CPW when it comes to magically multiplying resale values (and not even 15 CPW is as magical as many sellers seem to think it is). Not that the Time Warner Center isn't trying. The other penthouse on the market. asking $50 million, is aiming even higher—they want $10,363 per square foot.)
The listing joins a veritable graveyard of outlandish asks foundering on the market—from Steve Cohen's $115 million ask at One Beacon Court (the other mixed-use office/residential tower), to Steven Klar's $100 million aspirations for his low-ceilinged, '80s-errific octagonal abode at CitySpire. 15 CPW is even getting in on the game, with Leroy Shechter trying to rent out his awkwardly-arranged combo unit in the limestone building for $125,000 per month, after his $95 million asking price was met with ridicule rather than an offer.
The highest echelons of the luxury condo market are obviously red hot, with trophy penthouses in towers like 432 Park and One57 doing so well that other developers are tripping all over themselves to throw up super-tall towers with park views all over Midtown. But the aspirations of wealthy penthouse owners appear to have outstripped even the seemingly-limitless desire among buyers for sky-scraping apartments. As for the bizarrely-outfitted penthouse in a decade-old tower trying to double its money in just four short years, we'll be impressed if it gets $60 million.