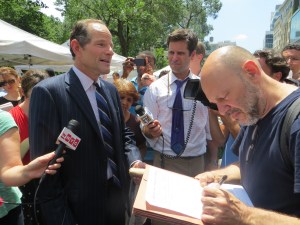 Eliot Spitzer has been scrambling to collect the 3,750 valid signatures the city says he needs to make it on the ballot to run for comptroller. But could he actually need to collect double that?
According to several top election lawyers, Mr. Spitzer and other citywide candidates should, in fact, be aiming to collect 7,500 petition ballots–not just to provide a cushion to protect from faulty entries–but because that's the minimum number required by a conflicting state law.
The confusion stems from a little-known conflict between state and city law, the latter of  which was rewritten by the city's Charter Revision Commission in 2010 to lower the number of signatures candidates are required to collect to appear on city ballots.
"Running for office in New York is now considered 'notoriously difficult because of the draconian ballot access laws,'" argued the commission. In recommending the changes, they reasoned that, "State constitutional and statutory laws, and the case law interpreting it, permit the reduction through charter amendment of the number of signatures required by a candidate seeking ballot access for election to a city office."
But, according to several lawyers, whether the city actually had the authority to trump state law remains in question–inviting lawsuits challenging Mr. Spitzer's bid to challenge Manhattan Borough President Scott Stringer in the Democratic primary, they said.
"There's an issue as to whether the state law preempts the city law," said veteran election lawyer Henry Berger, who has represented clients including President Bill Clinton and former Mayor David Dinkins.
"It's an open question," he said.
Another election lawyer, who spoke on the condition of anonymity in case he ends up litigating the issue, agreed there is a clear conflict between the city revision and state election law section 6-136, subdivision 2(a)–which cites the 7,500 limit.
Given the institutional forces, including unions and business leaders, aligning to keep Mr. Spitzer out of office, he said he had little doubt the former governor would face a legal challenge trying to keep him off the ballot by citing the conflict.
"If Eliot Spitzer's out there, there will be an issue," he told Politicker Thursday, adding that any voter would be entitled to file suit. "These issues are gonna to have to, of necessity, be appealed." It could also potentially impact other candidates, for instance, former Councilman Sal Albanese, who has reported collecting 8,500 signatures so far.
The lawyer noted that the challenge was unlikely to impact Republican or minor party candidates because the state law bases its signature requirement on the number of enrolled party members.
But top election lawyer Jerry Goldfeder, whose testimony was cited in the Charter Revision Commission report justifying the changes, disagreed.
Speaking generally, he said that the city typically has authority over its own election laws, and pointed to Republican George McDonald's unsuccessful lawsuit challenging the city's contribution limits for candidate not participating in the city's campaign finance system. He had tried to argue that, in that case, higher state limits should apply. (Other lawyers noted the decision was never appealed.)
Either way, the campaigns have until 11:50 p.m. tonight to submit their petitions to the Board of Elections.