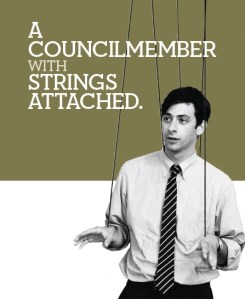 Two Brown University alumni named Stephen are facing off in a Brooklyn City Council race, but their similarities have not dulled the heat in one of the more contentious downballot contests in the city.
Councilman Steve Levin, facing a re-election challenge from Stephen Pierson, has endured a barrage of attacks from Mr. Pierson since the soft-spoken publisher launched his uphill campaign. The latest involves the Pierson camp claiming that Mr. Levin has been courting the support of a controversial real estate Super PAC.
"Evidently, Steve Levin is asking the Super PAC that REBNY [Real Estate Board of New York] is funding for a $100-$150K mail program," read the email sent to reporters and others.
But Mr. Levin, whose very liberal district would likely take poorly to him siding with real estate interests, says he's ready to start pushing back against the attacks, which he called "totally false and utterly reprehensible." He denied that he'd ever reached out to the group about receiving their financial support–a violation of campaign finance rules, which bar independent expenditure efforts from coordinating with candidates.
"The accusation made … by the Pierson campaign is totally false and utterly reprehensible," Mr. Levin said in an email to Politicker. "I have not asked for the support of Jobs for New York PAC, I would not accept their support, and I respectfully ask that Jobs for New York PAC stay out of the 33rd District Council race."
A source with the PAC backed up Mr. Levin and said the allegation that Mr. Levin reached out to them was false.
Mr. Levin also took exception to other Pierson efforts, including tying him to his one-time mentor and boss Vito Lopez, who resigned from the Assembly in disgrace in the face of sexual harassment allegations and is now campaigning for the City Council in a neighboring district. The campaign recently blasted out a mailer titled "Strings Attached," portraying Mr. Levin as Mr. Lopez's puppet.
"Unfortunately, this latest smear by the Pierson campaign is not surprising," he added. "From its inception, the Pierson campaign has been based on innuendo and character assassination in an attempt to distract voters from the real issues. I call on Mr. Pierson to disavow such tactics immediately, to cease employing them, and begin talking about the issues that matter to the residents of the 33rd District."
But Diana Gonzalez, Mr. Pierson's campaign manager, insisted that Mr. Levin was still close to developers as well as Mr. Lopez. "The fact is, Levin's actions don't match up with his words," Ms. Gonzalez said.
For his part, appearing at a meeting of an anti-Lopez Democratic club in June, Mr. Levin strongly distanced himself from Mr. Lopez.
"I was shocked, and what was in that report and the actions that former Assemblyman Lopez did are unacceptable," he said at the time. "He and I have not spoken in quite some time."
Of course, none of this has deterred the Pierson campaign, and so the battle wages on.
Additional reporting by Colin Campbell.