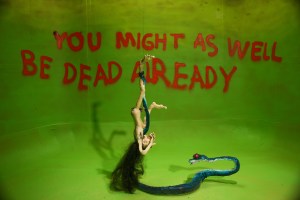 The artist duo of Nathalie Djurberg and Hans Berg are now represented by Lisson Gallery in London. (Lisson also has a gallery in Milan, and a by-appointment office in New York, on the Lower East Side.) The two create elaborate installations combining video, animation, sound and sculpture. (Ms. Djurberg handles the animation and installations, and Mr. Berg, a musician and composer, does sound.) They have been working together since 2004 and are based in New York.
Greg Hilty, curatorial director at Lisson, said in a statement, "Nathalie and Hans are constantly pushing the possibilities of their forms, ideas and materials. Their collaborative practice also reflects the gallery's ongoing support for the next generation of exceptional international artists."
The two are represented by Gio Marconi in Milan and Zach Feuer in New York.
Another of Mr. Feuer's artists, Mark Flood, who lives and works in Houston, has joined Stuart Shave Modern Art in London. Last fall, Mr. Flood had simultaneous shows at Zach Feuer and Luxembourg & Dayan. His first show at Stuart Shave in London will happen next spring.
Way to go, America.