The last thing any of the Children's Magic Garden community members wanted to see was another construction crew tearing up their garden.
While celebrating their victory in preserving the Lower East Side's beloved community garden, a construction crew from developer Serge Hoyda began digging holes on what More Gardens Owner Aresh Javadi said was "the garden's side of the lot."
"The holes are destroying places where kids have planted their seeds and they are saying it is on their side of the lot," Mr. Javadi told The Observer. "This is a big celebration for getting out lots back. We want to get this resolved before there is more damage."
Mr. Javadi said the construction crew is digging holes and putting up plywood planks along a fence that already separates the two lots.
Development managers from Serge Hoyda were not available for comment.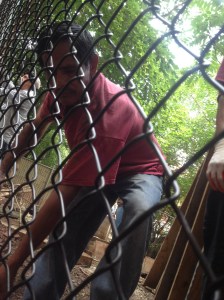 The Children's Magic Garden's land is owned partly by NYC Housing and a private developer. In May, the developer dug through part of the center and fenced off their part of the community garden, according to the Garden's website. The City administration agreed in late June that two of the three lots held by the garden would be transferred to the Parks Department to help preserve the Norfolk Street garden through the Green Thumb program.
"The children are very disturbed," Mr. Javadi told The Observer. "We are reaching out to representatives to find a solution to this."