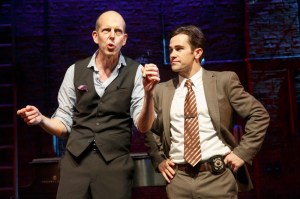 In any given Mutt-and-Jeff configuration, Jeff Blumenkrantz will always come out the Jeff. Long and lanky, he regularly towers over his scene partner(s), snap-crackle-and-popping a great face of comic elasticity at an altitude all his own.
His current Exhibit A opens July 25 at Second Stage's uptown McGinn/Cazale Theatre: Murder for Two, a cartoonish murder-mystery musical in which, for 87 minutes, he raises multitasking to a high-anxiety art, making dizzy dime-turns playing the assorted suspects, red herrings and walk-ons who populate the proceedings.
The No. 2 man here—the Mutt of the case, played in his New York debut by the shorter and younger (29 to Mr. Blumenkrantz's 48) Brett Ryback—is a police officer and wannabe detective named Marcus Moscowicz, trying to solve the murder of Arthur Whitney, a famous mystery novelist who made the fatal mistake of using friends and neighbors as characters.
Also to be determined is how he was killed—by knife, gun, candlestick or any of the other weapons of individual destruction used in the Clue board game. (Set designer Beowulf Boritt has considerately provided a chest of Clue's lethal possibilities.)
It's not so much a whodunit as it is a whichoneofhimdidit, since Mr. Blumenkrantz plays all persons of interest and Mr. Ryback does all the grilling. Should the show hit a momentary slump, one or sometimes both of the actors rush to the onstage piano to play one of 11 songs that Joe Kinosian and Kellen Blair wrote for their book.
"I think they say there are 13 suspects because it sounds better for marketing, but there're only nine, as far as I know," Mr. Kinosian told The Observer last week. "Some random people appear in flashbacks, and they're part of Jeff's cast of characters."
Mr. Blumenkrantz covers them all, regardless of gender or generation—the deceased's widow and niece, three choirboys, the bickering couple next door, a ballerina and the psychiatrist of all of the above (including the investigating detective).
"There are things about every character that I love, but if I had to pick a favorite character, I think it would be Dahlia," the actor said. The newly widowed Dahlia is a party hostess more concerned with who stole the ice cream than who zapped her husband. And every time the sleuth's cellphone goes off, she instinctively and savagely lights into the audience: "This is a theater! Turn that off! Immediately!"
A game and gifted comedian, Mr. Blumenkrantz jumped into the show with both feet—and then experienced a sinking feeling. "It didn't really hit until the first rehearsal, and I went, 'Oh, my God! This is such a bigger assignment than I had anticipated.' I hadn't really thought about all the levels that I had to operate on.
"More than the playing, the singing, the acting, it is—for me—a feat of coordination. I'm doing a lot of things at the same time, and a lot of the things I'm doing I have to make it look like I'm not doing them. That's the most challenging thing about this."
He managed to realize all of The Actor's Nightmares during the first five days of previews. Two of those he can now talk about: "One night I said a line in the wrong character's voice, and you know what's funny? The audience just ate it up. The other nightmare was, I got completely lost and started to jump ahead about 30 pages. Then, as I started to speak, I realized, 'I'm in the wrong place, and I have no idea what's next.' So I literally just turned to the audience and I said, 'Take Two,' and we got back on track—but they loved it. Both times, it stopped the show with laughter.
"I'll tell you what it's like," he continued. "Recently, I went to see Kinky Boots for the second time. The first time, I thought, 'Boy, does Billy Porter have a really rigorous track!' The second time, I was like, 'Oh, I'd give anything to just to have to do what Billy's doing up there.'"
Scott Schwartz's direction keeps him focused. "He really rides a great balance between reining us in and letting us play. I overheard him say he'd never laughed so hard in rehearsals. I can understand that. I've never laughed so hard before either."
But juggling a multitude of diverse personalities onstage may come easily to someone who wears different hats offstage. Mr. Blumenkranz is also a composer and lyricist, earning not only a Tony nomination (for Urban Cowboy) but also the ear of Audra McDonald, Victoria Clark, Sutton Foster and Rebecca Luker.
And it helps to have another multitasker returning the serve. "As pianists and composers and actors, Brett and I have a shorthand. Like today, we were putting in changes. They were saying, 'Let's just go from there'—and we knew exactly where 'there' was."
This simpatico relationship has made Mr. Ryback's arrival from the West Coast a smooth landing. "As challenging as it is, I must say it's rare to get to do a piece where you use all these abilities Jeff and I have, in the dancing and singing and comedy. It's great we've developed this trust, because all we've got is the other person. Before we go on, Jeff usually says to me, 'I'll see you on the other side.'"
The template for Murder for Two is Agatha Christie's much-filmed Ten Little Indians—"the 1945 version," Mr. Kinosian is quick to specify. There are at least eight different versions and variations of this classic Christie, first published in 1939 with the N-word in the title. Pornographers had their way with it; so did the Russians in 1987 (the only film to use the book's ending). The best was the first, brought forth in 1945 by dislocated French director René Clair—with the stage play's ending—under the title And Then There Were None. Among the doomed who descended on a small, isolated island off the coast of Devon, England: C. Aubrey Smith, Judith Anderson, Walter Huston, Mischa Auer, June Duprez, Barry Fitzgerald, Louis Hayward, Roland Young, Richard Haydn and Queenie Leonard. It is a haughty, inconvenienced and highly vexed Ms. Anderson who utters the immortal line: "Very stupid to kill the only servant in the house—now we don't even know where to find the marmalade."
The Clair film, said Mr. Kinosian, "is not a detective story—it's a murder mystery. One by one, all of them die. It was a real inspiration in terms of style and whimsy. It's horrible, they're dying left and right, but they never lose their sense of humor."
Mr. Blair calls it "the most classic example of the closed-room murder mystery, where everyone is kinda sealed off from the outside, and we know it has to be one of them who is running around killing everybody off."
To beef up the detective side of the ledger, the authors checked out The Thin Man, which ran through seven installments from 1934 to 1947, starring William Powell and Myrna Loy. "It has always been notable to me," said Mr. Kinosian, "because that was the first real statement of how to combine mystery and comedy."