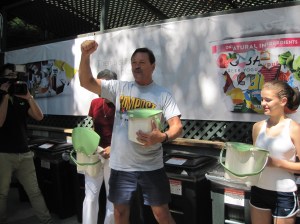 This morning, Mayor Michael Bloomberg announced the expansion of the city's new voluntary composting program, which is expected to reach across the five boroughs by 2014.
But don't expect the billionaire mayor to start collecting scraps and peelings in Tupperware containers at his ritzy townhouse any time soon.
"No, I don't think we've cooked a meal since we started this, to be honest with you," he told Politicker with a hearty laugh when asked by Politicker whether he'd had any personal experience with composting.
Still, Mr. Bloomberg, speaking at a Morningside Heights press conference touting a new "Recycle Everything" ad campaign, said that he and his girlfriend have always recycled glass, plastics and paper.
And the mayor's spokesman, Marc La Vorgna, was quick to jump in to note that, while the mayor may not compost at home, he and his staff have been doing so in the bullpen at City Hall.
"And look, sometimes people do throw things in the wrong bucket. That's OK," volunteered the mayor, who said that composting has also been introduced at his foundation building on the Upper East Side.
But even if the mayor may never personally adopt the habit at home, the composting enthusiasts at the building highlighted by today's event, which has seen a 35 percent drop in waste since it joined the movement, encouraged other New Yorkers to jump on board.
"Once I started doing it, I started feeling great," said Skip Delano, 65, a resident at the complex, with enthusiastic zeal.
Joan Levine, 84, who keeps her kitchen scraps in old Chinese food containers but insists she's never had any problems with smells, agreed.
"It's wonderful. And what's wonderful is how enthusiastic people are," she said. "I think people want to do the right thing … I want to make sure that we don't fill the whole world with landfills."
Mr. Bloomberg has made increasing the city's dismal recycling rate a center point of his final year in office. Organic waste collection is set to begin this fall in Windsor Terrace in Brooklyn and in various neighborhoods across the Bronx. Next spring, it will extend to Queens neighborhoods including Middle Village and Maspeth, as we as Cobble Hill and Bay Ridge in Brooklyn, and Midland Beach and New Dorp Beach in Staten Island.
The program–which has thus far logged about a 50 percent participation rate–will reach approximately 100,000 household by 2014.