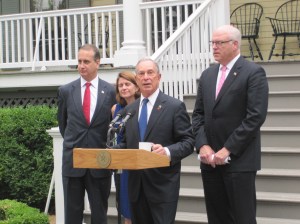 Mayor Michael Bloomberg again refused to weigh in on the latest Weinergate developments, but said this morning the scandal-scarred campaigns of Anthony Weiner and Eliot Spitzer have provided an unfortunate distraction as voters weigh their choices.
"I don't think there's any question that the press is focusing on their backgrounds and, you know, their two events, or two actions, or standards of behavior, one from Spitzer when he was governor and one from Weiner when he was congressman," said the mayor, speaking during his weekly radio sit-down with WOR's John Gambling.
All of that attention, he argued, "takes away from having them focus on–and everybody else on–what they would do if they get elected."
"If we devoted a quarter of the space to tell us what you'd do in the real world, where's the money gonna come from to deliver the things you promise, the dialogue would be a lot better," he added. "So sure, it takes away."
Mr. Bloomberg has been adamant in refusing to discuss the developments in Mr. Weiner's sexting scandal. And earlier this morning, during a press conference in the garden outside of Gracie Mansion, Mr. Bloomberg specifically advised reporters that he wouldn't be answering questions about the race.
"Let's stipulate: Can we avoid questions about former congressmen?" he asked–a request that was promptly ignored.
He later tried to explain the reasoning behind his reluctance. "I am in a very special position. I have to lead this city. I'm going to be mayor for another 158 days. And I have to turn over this city to whoever gets elected," he told Politicker when pressed. "Will I endorse somebody in the end? I'll see …. but I shouldn't be part of that dialogue."
"I've said before, conduct like some of these things we've been reading about is reprehensible," he added. "But whether it should impact your voting, that's up to the voters."
He was more than happy, however, to continue to push back against Mr. Spitzer and his hard-charging rhetoric against Wall Street.
"You know, Wall Street is a very big employer and taxpayer in this city," argued Mr. Bloomberg, who said that part of the job of any elected official in the city should be "to champion the industries that employ our citizens and pay the taxes … And just condemning any one industry is not a smart thing to do."
He further maintained that Mr. Spitzer's promise to use the comptroller's office to pressure reforms was far beyond the purview of the post.
"if there's something wrong, it's not the comptroller's job to investigate that," he argued. "The comptroller's job is to make sure that all of the contracts are given out fairly and that they are given out to suppliers for the city that are honest. That's the job and that's where we really need the next comptroller to focus on."
Update (2:34 p.m.):
Mr. Spitzer's campaign responded to Mr. Bloomberg with a lengthy statement defending his plans if he's elected.
"Eliot understands that at their best, our capital markets grow business, foster innovation, build neighborhoods and lift an economy so it works for all of us. But when political leadership cedes the power vested in them over to the same powerful special interests they're supposed to oversee, our markets no longer work for any of us," he said in part.
"He'll be a firm, independent voice fighting for the people's money," they added. "And in so doing, he will help our working families prosper along side the financial services industry."