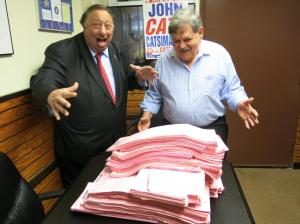 Public Advocate Bill de Blasio and Comptroller John Liu may be struggling to gain traction in the polls, but they're besting their competition when it comes to petition signatures.
As observers wonder whether newly-minted candidate Eliot Spitzer will even be able to gather the nearly 4,000 signatures he needs to make it on the primary ballot, the city's mayoral candidates began submitting their piles of petition forms to the city's Board of Elections Tuesday afternoon–and it appears Mr. de Blasio and Mr. Liu are leading the pack.
Mr. Liu's campaign said his team had amassed 65,000 petition signatures, "with more still due to come in," a spokeswoman said Tuesday evening. The number speaks to the resiliency of Mr. Liu's campaign, despite the damage caused by a federal investigation into his fund-raising that resulted in the arrests of his former campaign treasurer and a fund-raiser.
Mr. de Blasio's team, meanwhile, expects to file approximately 60,000 petition signatures with the Board of Elections, his campaign spokeswoman told Politicker Tuesday.
"60,000 petition signatures — gathered solely from the hard work and sweat of our dedicated army of volunteers — speaks volumes about the ground game team de Blasio will bring to voters this fall," his campaign manager Bill Hyers said in a statement.
"60,000 is a whole lot of petition signatures! Thank you, #TeamdeBlasio. That's #groundgame," the campaign also tweeted along with a photo of stacks of files.
Meanwhile, early front-runner City Council Speaker Christine Quinn, who has flooded the city with volunteers and unpaid interns, will submit 46,710 signatures, according to her campaign.
"The Quinn team is incredibly proud of this significant achievement," Ms. Quinn said in a statement. "This is truly a testament to the hard work of the hundreds of campaign volunteers and staff and the overall support for my candidacy for Mayor."
Former City Councilman Sal Albanese, whose team plans to file Thursday, reported around 8,500 signatures collected by volunteers going door-to-door.
But besting them all is Manhattan Borough President Scott Stringer, Mr. Spitzer's would-be opponent, who amassed a whopping 100,000 signatures for his comptroller bid.
On the other side of the aisle, Republican billionaire John Catsimatidis, a supermarket and oil magnate who has been paying a pack of young staffers to fan out across the city, tweeted Tuesday afternoon that he had amassed over 25,000 signatures to get him on the ballot. Queens led the boroughs, according to his campaign, with approximately 9,000 Republicans from the borough signing his forms.
Even better was the picture he sent out along with the tweet that shows him, mouth ajar, marveling over a heaping pile of pink petition forms.
"These signatures are proof positive of the ground swell of support my campaign is receiving from rank and file Republicans throughout the city," he said in a statement."I want to thank everyone who carried and signed petitions over the past month especially those campaign workers who braved the heat, humidity and rain to get the job done."
Former MTA Chair Joe Lhota reported filing just over 17,000 petitions to get on the ballot, his campaign tweeted.
And Doe Fund Founder George McDonald, the first candidate to file his petitions, submitted 7,550 signatures Monday.
Meanwhile, Independence Party candidate Adolfo Carrión, Jr. is expected to file more than 5,000 signatures tomorrow morning, his campaign spokesman said.
While the mayoral candidates only need to collect 3,750 valid signatures to appear on the ballot, they typically collect many, many more–both as a symbol of operational strength as well as to stave off lawsuits filed by challengers who can try to invalidate many names they collect.
Candidates running on major party lines have until Thursday night to collect their signatures.
Updated at 6:27 p.m.