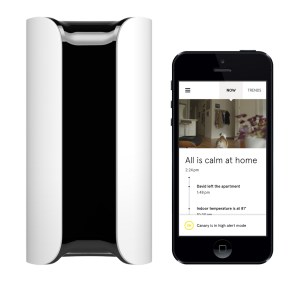 The majority of home security systems are clunky, inefficient, expensive and not exactly ideal for renters. Chances are if you want to quantify your home the same way you quantify yourself, you have to sign a contract with a security behemoth like ADP and go through a lengthy install process to get the thing working. Canary, a new startup based in Soho, aims to change that.
The new system, which launched a crowdfunding campaign on Indiegogo this morning, aims to be the Nest of home security systems: no complicated installation, no monthly fee and no contract. Just one device for $199 that connects to your wifi and uses sensors to monitor your home environment.
Adam Sager, the cofounder of Canary who worked in the security industry for 15 years after serving in the Israeli Defense Force, says the reason he wanted to develop Canary is three-fold. "One, I was renting so I didn't want to install a full security system even if it was a do it yourself kit," he told Betabeat by phone. "Second, they were all so expensive, and third they just really don't work well. Most have a 99 percent false alarm rates, security systems: they fail all the time. Two-thirds of people don't even turn on their systems."
So he and his team came up with Canary, which has built-in audio and video, motion/vibration detections, night vision and sensors for heat, humidity, air quality and carbon monoxide. You place it on a table or shelf in your apartment, and the device can monitor what's going on in a room and discern what's normal for your home and what's abnormal, and can send you reports to your phone if it detects a problem.
You can also tap into Canary to view a live feed of your home, if you're curious about what exactly your cats do while you're away. The device also geolocates your phone so that it automatically arms and disarms itself based on your proximity to it (and if your phone dies you can just disarm it manually).
Canary seems like an elegant solution to the home security problem, but it's not exactly on the market yet. Though they have a functioning prototype, the team still needs to raise money for manufacturing, so they're turning to Indiegogo with the hopes of raising some crowd capital. Crowdfunding, Mr. Sager said, will allow them to cultivate a user base and collect important user feedback early in the process. They're also working to raise a round to help expand their team, and are being advised by Brooklyn Bridge Ventures' Charlie O'Donnell.
Hardware startups have of course encountered a number of hurdles are their way to successful crowdfunding. But Mr. Sager is well aware of those, and promises he and the team have worked hard to mitigate them.
"We delayed the crowdfunding a lot–a lot of people crowdfund much sooner," Mr. Sager said. "We've been doing this for a  year. We have our prototypes and it's not just a drawing on paper. We have the device working and testing it now. We know a lot more about the process, so there's less risk going into the space."