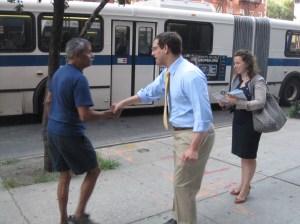 The controversy never seems to end in New York City politics.
Upper East Side Assemblyman Micah Kellner–one of the few Assembly Democrats to criticize Speaker Shelly Silver's handling of the Vito Lopez scandal–is now facing sexual harassment allegations of his own.
The City Council candidate was allegedly the subject of a sexual harassment complaint made by a female staffer four years ago. But, according to the New York Times, the complaint was never referred to the Assembly's ethics committee, prompting the dismissal of a top Assembly lawyer, Bill Collins.
Campaigning on the Upper East Side this morning with his wife, Marie Ternes, by his side, Mr. Kellner told Politicker he deeply regretted the incident, which reportedly involved suggestive messages sent via an online chat service while playing Facebook Scrabble games.
"You know, this occurred over four years ago. It was while I was single. It occurred over a few weeks. It was inappropriate. It was stupid. And I was wrong for doing it. And when the staffer told me that she felt that it was unprofessional, I immediately stopped and regretted putting in her in that position," he said. "I was sorry then and I'm sorry now."
He declined to comment on a second reported complaint from another staffer two years later, saying, "I'm not going to speak to that."
But what should voters make of the fact that he had been out front, criticizing Mr. Silver for failing to refer complaints for investigation–when that is precisely what is alleged to have happened to the complaints lodged against him?
"Then this should have been handled," he replied. "I was never informed four years ago of a complaint. So I only learned of this recently."
Mr. Kellner also declined to speculate about why the complaints had surfaced now–in the midst of a heated election–and sidestepped questions about how he thought voters were reacting to the barrage of political sex scandal, including the latest revelations about mayoral candidate Anthony Weiner.
"You know, I'm running on my record. I have fought to make this community better in  trying to stop the waste transfer station, bringing four new schools to the community, building new parks. And I hope the community will judge me on the work I've done," he responded, before returning to passing out  fliers to rushed commuters on the corner of First Avenue and East 86th Street. "I've only gotten a positive reception this morning."
But while most of the people passing by seemed to have never heard of Mr. Kellner and expressed little interest in the council election, several expressed frustration that yet another elected official had been implicated in scandal.
"He seems like a protegé of Weiner," scoffed one man, 73, who said he'd lived in he neighborhood for more than 50 years and had read about the news in this morning's paper.
While he hadn't heard of Mr. Kellner before, the man, who refused to give his name, said he was unlikely to vote for him now.
"I blame the whole attitude of Albany. It's a whole male mentality, a rowdy boys' club," he charged.
Another older man, who also refused to give his name, scoffed when Mr. Kellner introduced himself to a line of commuters waiting in line for an MTA bus. But the 71-year-old said that, even if he was disturbed by the assemblyman's actions, they paled in comparison to other electeds'.
"Kellner did bad, but most of them did much worse than Kellner," he contended. "The others should all be thrown out. There's something wrong with the body politic."
One of Mr. Kellner's electoral opponents, attorney Ben Kallos, has scheduled a 2 p.m. press conference outside of Mr. Kellner's office to respond to the revelations.