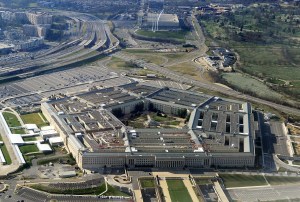 In what may be the season's unsexiest journalism trend, mainstream media companies are launching military-related news sites, on the theory that defense-related digital ad spending will grow as the industry's print stalwarts fade.
In February, the blog network Breaking Media acquired AOL's two-year-old defense blog, AOL Defense. (It was later renamed "Breaking Defense.") Last month, CQ Roll Call, the Congress-obsessed publication owned by Economist Media Group, launched Topic A: Defense. Politico quietly enlisted a half-dozen reporters to add defense coverage to its Politico Pro subscription product. And last week, Atlantic Media unveiled Defense One, an online-only publication about defense and national security.
It's no mystery why big media companies are developing an interest in defense. The Department of Defense's budget was $525 billion last year, much of which trickles down to defense contractors. And those companies need new ways to reach industry influencers, the thinking goes.
In 2008, when Colin Clark launched DoDBuzz.com, the first defense-focused web magazine, his main competition was print titles such as Aviation Week, Flight Global and Defense News—the magazines read by the senior Pentagon officials and Congressional staffers who decide how to spend the Defense Department's budget.
Since then, these once-dominant print publications have struggled to adapt to the web, and a group of web-savvy media companies have been angling for their ads.
"Our whole goal is to get inside the decision cycle of the Pentagon and Congress," said Mr. Clark, now the editor of Breaking Defense. "For folks on the Hill and industry, what they value from us are the analysis and the breaking stuff that we bring to them."
Mr. Clark believes that the defense contractors value the site more for its analysis and influence than for its advertising potential. Breaking Defense is not simply a platform for defense-industry ads, he said, "though we love them."
Defense One is making an investment in original content, and plans to hire 10 to 12 more reporters. Editor Kevin Baron got his start as a Pentagon correspondent for the independent military newspaper Stars & Stripes and later did long-form journalism at Foreign Policy magazine. "One of my stipulations of taking this job was that I wasn't going to give up my pen," he said. "I'm still in the Pentagon press corps and so is [deputy editor] Stephanie Gaskell. We are not giving up our blue badges."
The site already has three launch sponsors. Like fellow Atlantic Media brands The Atlantic and Quartz, Defense One aims to make money through a combination of traditional advertising, sponsored content and events. The site plans to host the first-ever annual Defense One summit in November.
Topic A: Defense is the strangest of the new websites. Rather than simply running ads, the site is entirely sponsored by Boeing. And it shows: along with Boeing banner ads and "sponsored content" posts touting the latest Boeing products, the name Boeing is even in the URL: boeing.rollcall.com.
"At least everyone knows who owns it," Mr. Clark said of his competitor.
Boeing is not the only advertiser on board with the new military news sites. Northrop Grumman is a launch sponsor for Defense One, and Raytheon has helped underwrite Politico's expansion of defense coverage.
Defense contractors "are extremely sophisticated marketers, and they are constantly looking for ways to get beyond traditional advertising," said Beth Bronder, the publisher of CQ Roll Call and one of the people behind Topic A: Defense. "I think they're going to try to separate themselves even more from the pack, going forward."
Still, doubt remains about the defense industry's eagerness to advertise when this media niche's honeymoon phase is over. "Defense companies are very conservative," acknowledged Mr. Clark. "They have a single customer: the United States government."